Faros Mediterranean Restaurant: Excellent Food at Unassuming Maadi Restaurant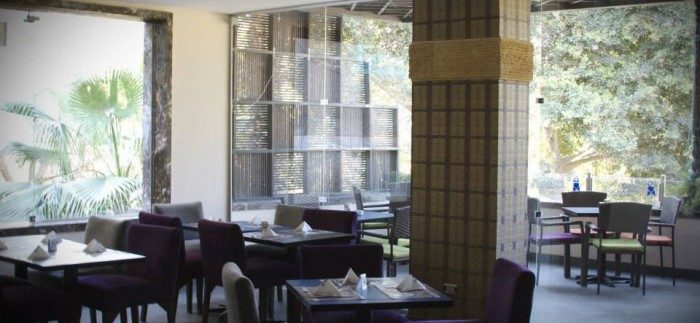 Occasionally on our excursions in the unpredictable world of dining in Cairo, we come across a restaurant that isn't necessarily hidden, but just one that you just never thought to take a second look at. You find it relatively empty, and question if that's a sign. Doubtful until the last second, you take a seat, look at the menu and eventually place an order after deciphering the many items on offer. Sound familiar? Isn't it great when you're rewarded with great food? Don't you ask yourself why you don't eat here more often?
One such restaurant is Faros, a true gem lost to the rest of the city in the obscurity of Maadi. With very elegant indoor and outdoor areas, it's a great place to have any meal and leave your troubles outside the door – or in the children's play area.
Utilising different shades of beige on the walls, dark brown wooden tables with beige and purple cushioned chairs, and a lounge area with black couches, the aesthetics are set to ease you into a great dining experience.
The waiters kindly walked us to our table and handed us their extensive menu. We scanned through the menu and opted for some interesting appetisers.
We chose Chicken Liver with Pomegranate Sauce (21.95LE) and Chicken & Peach Spring Rolls (24.95LE), which we found quirky and a little different. The Liver gravy with the pomegranate sauce was simply spectacular, creating a wonderfully tangy yet delicious flavour. The liver itself, meanwhile, was tender and cooked perfectly.
The Spring Rolls, while blending an interesting flavour of sweetness into the conventional appetiser, was slightly dry courtesy of the thicker-than-usual dough. While the chefs get points for the spring rolls not soggy and greasy, they may have gone a little too far in the other direction.
From the main courses, we opted for a Grilled Fillet (71.95LE) – cooked medium rare – and Veal Scallopini Funghi (74.95LE), cooked medium.
The Grilled Fillet, topped with a tasty mushroom sauce, came with mashed potatoes and sautéed vegetables. Cooked just as requested, the meat was tender and delicious. The mashed potatoes were covered in a layer of breading and cheese which gave it a nice crunch to contrast, but the vegetables were a tad overzealously seasoned.
The Veal Scallopini dish came in the form of thinly sliced veal in a delicious mushroom, onion and butter sauce, accompanied by penne pasta in a white sauce. The veal, while a tad overcooked, was compensated by the sauce, but unfortunately, the pasta was very average and seemed pretty redundant.
Faros isn't breaking any boundaries, but sometimes when it comes to dining in Cairo, it's just nice to get what you ask for and feel like you haven't been swindled.