Feteera: Modern Spin on Feteer in Sheikh Zayed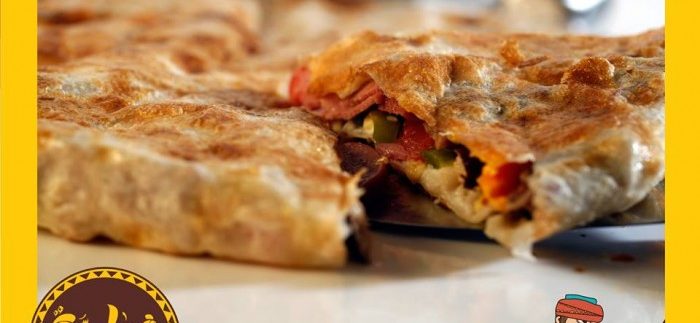 One of underrated joys of life is leaving a restaurant absolutely stuffed – something the many quantity-over-quality restaurants in Cairo can offer. During our review of the original Feteera in Zamalek, we left with our belts undone and the small eatery has since expanded to more branches, onw of which is located in Sheikh Zayed.
The secret to Feteera is that the pastry itself isn't made with the traditional butter or ghee. Instead, it uses a much lighter oil that helps prevent the mess feteer usually causes.
The venue itself consists of an outdoor area with simple tables and chairs; the first floor is where you see the feteer being prepared and going into the oven, while the second floor has a more spacious seating arrangement. We opted for the outdoor area, which we didn't realise would be so loud.
The menu is large and diverse, featuring vegetarian options as well as beef, chicken and seafood. Additionally, they also serve feteer meshaltet and rokak. All the pastries come in two sizes, as well as a roll. We were intrigued by the mesa'aa (Egyptian moussaka) feteer (37LE), which we couldn't fathom, but after much curiosity it got the best of us. We also opted for the Chicken Barbeque Pizza feteer (47LE) and a Custard, Cream and Cinnamon feteer (34LE) for dessert.
Preparation and serving time was very short. The Chicken Barbeque Pizza Feteer; the ingredients were fresh and included chicken, mozzarella, barbeque sauce and bell peppers, creating a delicious final flavour combination. The medium sized feteer will leave you full, but not stuffed.
The mesa'aa Feteer came a little later, but was worth the wait. Stuffed with eggplant, minced meat, mozzarella and roumi cheese, as well as tomatoes, bell peppers and onions, it was light and tasty in the centre, with a nice crisp around the edges.
The Custard, Cream and Cinnamon feteer was the cherry on top of a great snack-come-meal. The filling is so generous, it oozes out of everywhere. The cream and custard created a delicious mixture which was taken to another level with the addition of cinnamon. Our only regret was ordering the large size which was way more than we could eat.
The competition over the best feteer in Sheikh Zayed has just become fierce. Everything we tried at the time of our visit and everything we tried previously at the first branch were surprisingly good; Agina may have to step up their game.