Fontana Fetar: Grand Hyatt's Ramadan Buffet
Inside Grand Hyatt Cairo Hotel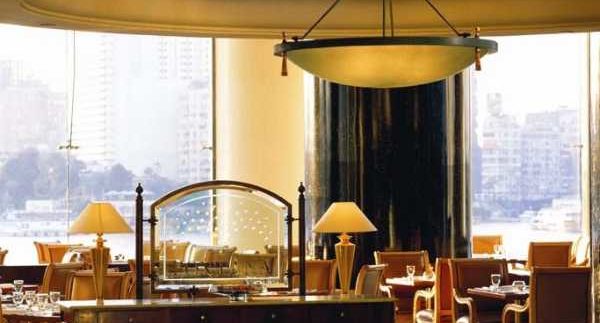 It's that time
of year when the two most beautiful words in Cairene vocabulary are fetar and
buffet. They are even more splendid when
combined. Not only do we finally get to
eat, but we get to eat as much as we want. The Grand Hyatt in Garden City understands that we want food, and we
want a lot of it. If a food coma is your
goal, Fontana's
fetar will show you the way.
The dining
area is majestic with a Nile view and dark
wooden furniture; but it is not decked out in Ramadan decor like many tents and
hotel restaurants. No matter though,
because we're here to feast. To start
things off, a variety of cold dishes are available at the centre table. A massive bowl of fatoush, crudités and potato
salad as well as calamari salad and tomatoes with fresh mozzarella are a few of
the light, refreshing starters offered. Thick slices of smoked salmon and richly flavoured bresaola add a touch
of luxury, while a larger-than-usual variety of dips and spreads includes metabel
and muhammara. The starters were so
abundant and flavourful that we could have stopped there if we didn't know any
better.
The hot
entrées were decadently meaty. Nearly
every chafing dish held veal, lamb or beef with a few exceptions of chicken,
fish and a large pot of rice. Perfectly
braised veal with a mahogany exterior from soaking in marinade revealed a pink
centre and rich flavour, while a stewed lamb with peas was melt-in-your-mouth
tender. White fish with green olives was surprisingly flavourful and not nearly
as overcooked as buffet seafood can be.
Although
the juice selection only includes amar el din, karkadeh and dom, the juices are
strong and sweet, just as they should be. However, be warned that the bottle of water at each table is not
included in the buffet price; so stick with juice to avoid hidden fees.
The dessert
selection looked incredible with osmanleya, rice pudding and konafa, in
addition to fresh kiwis, figs and bananas. However, well before we expected it to happen, and long before the rest
of the buffet was cleared, the staff began to break down the dessert
station. What we were able to sample was
delicious and though we were entirely too full at that point to try anything
else, it would have been a far sweeter ending for us and the rest of the
patrons that were still eating had we been given word that desserts were being cleared
away early.