Tavola: Big Menu at Italian Restaurant & Lounge in New Cairo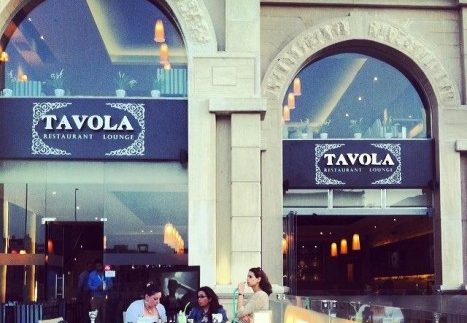 Cairo is filled with loud and bustling eateries – it's almost a trademark – but, more often than not, you find yourself in need of the exact opposite; something that Italian restaurant, Tavola, in New Cairo's Concord Plaza Mall provides.
With both of its floors offering both indoor and outdoor seating areas, the restaurant is quite spacious yet retains an element of cosiness, thanks mostly to its simple, Mediterranean-inspired decor. We opted for an outdoor table and were shown to it right away by a pleasant and welcoming member of staff.
With our menus resting on the noticeably immaculate table, we were all set to place our order. To say the menu is big, however, would be an understatement; Tavola definitely does not limit itself to Italian the basics, seemingly offering everything and anything that is even a little Italian-influenced as well as some generic sandwiches and burgers. Through the options of pizzas, pastas, risottos and meat dishes, Carpaccio Salmon (56LE), Rigatoni Gorgonzola (46LE), the Chicken Cordon Rose (66 LE) and Veal Medallion (88 LE) are a few of the dishes that stood out.
Going for Mushroom Soup (22 LE), Taco Salad (47 LE) and Rigatoni Arrabbiata (33LE), as well as Dark Hot Chocolate (23LE), we also decided to keep ourselves busy with Vanilla-Coconut and Lemon-Mint shishas (34LE). Strangely, however, the appetisers arrived well before the shishas did.
The hot chocolate was soothing and warm, yet lacked the distinct bitterness of dark chocolate. The Mushroom soup, despite looking quite delicious, was over-salted and served a little colder than you'd expect. The Taco Salad, which is the Tavola's signature salad, was overwhelmingly filled with lettuce and lacked any of the mentioned almonds, but the Ranch dressing, nonetheless, was quite creamy and the crunchy bread bowl it came in added a nice touch. The Rigatoni Arrabiatta was, finally, perhaps the one dish that met all our expectations, boasting fresh-tasting sauce. Lastly, the shishas were both light and wispy and their coal was regularly and efficiently maintained.
Tavola is a good place to unwind and perhaps get a couple of hours of work-outside-of-the-office or studying done. The dishes, albeit needing some tweaks here and there, were to some extent adequate and the overall level of service was quite satisfactory. Ultimately, though, the unfocused and hefty menu paints Tavola in the type of genericism that seems to define so many, supposedly, Italian restaurants in Cairo.