Converse: High-Top Heaven in Mohandiseen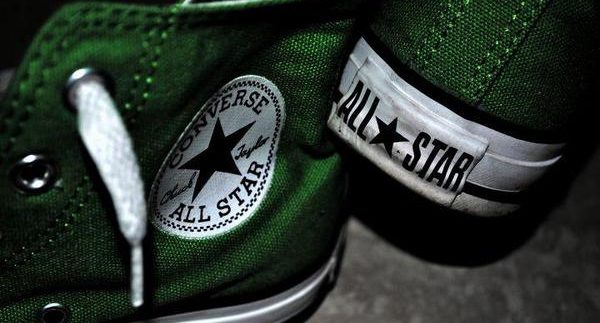 If there
is one item of footwear that has taken the world by storm it is the famous Converse
shoe. No matter where in the world you go you'll most likely find someone
wearing a pair. Although originally introduced as basketball apparel, the shoe didn't find much success
with the sport, especially player Chuck Taylor complained to about sore feet.
Interestingly, the next day he became Converse's new salesman and ambassador;
eventually adding his signature to the logo, which has not changed until this
day.
Converse
in Mohandiseen is located on Gezirat El Arab Street just across from Mango. The store is relatively small; nevertheless, there is quite an
extensive collection of clothing and, of course, shoes. Apart from Converse you
can also by some Nike items such as hooded sweatshirts (499LE) and sneakers
priced between 400LE and 800LE. The shop has a funky design and in the back it
has the 'basics' wall where there are the classic Chuck Taylor Converse sneakers.
There are a lot of different colours available including red, blue, yellow,
purple, green, pink, grey, camel and black – the short-top models are 459LE and
the high-tops are 497LE.
They also
have the Jack Purcell collection. The shoes in this line are a bit trendier and
tend to have a thinner sole; they are available in a variety of dark colours
such as grey, stone-wash, denim and black leather. The low-tops are around
489LE, depending on their colour. As
well as the adult line there is also a baby shoe line and though the shoes are
super cute, 419LE is still pretty steep for such a tiny shoe.
The
Converse clothing line is of relatively good quality and is modestly priced
compared to other international sports brands to be found in Cairo. Hooded
sweatshirts are around 399LE, while t-shirts are between 150LE and 250LE. Leggings
are also available for 199LE, most of which feature Converse's famous star logo.
Jeans are only available for men and cost 449LE. They also have baseball caps
for 119LE and if you're looking for an easy gift you have the option of key
chains (59LE) or a small sneaker that dangles on a rope and is available in
different colours.
The
staff at Converse is very helpful and friendly; they offer advice on shoes and
in case they don't have your size they do all they can to find it somewhere
else. The sales are usually very good at Converse with prices dropping up to
50%- so keep an eye out for that. Converse also launches special collections
every season usually inspired by a celebrity or famous sports person; be sure
to get your hands on one of those limited edition sneakers.