Art Beat Festival: Calling all Art Lovers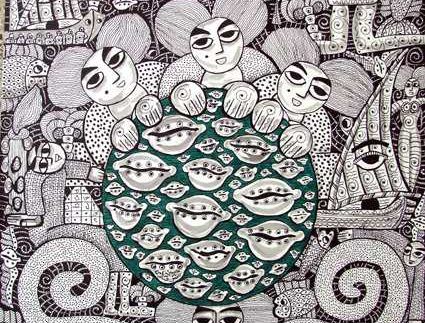 Cairo is such a culturally rich city, running
deep with musical and artistic talent. It thrives on historical craftsmanship and
is challenged by modern day music.
However, the Cairene
public rarely has access to the art experience in all arenas. Since the
majority of the local and international arts scene is unfortunately often secluded
to selective venues, only a limited number of people access these performances
and art exhibits.
Launching in Cairo and El Minia on
June 10 th and running until June 14 th, the Art Beat Festival aims at dissolving
barriers and providing an opportunity for all Cairenes to enjoy both local and
international arts on display.
The Art Beat
Festival is the brainchild of the musical minds at Cairo Jazz Club in conjunction
with the creative team at Darb 1718. While Cairo Jazz Club
has always supported up-and-coming local musicians, Darb 1718 has done a
phenomenal job in providing an arts space for both local and international
artists. Other participating venues include El Genina Theatre in Al Azhar Park,
as well as the Roman
Theatre in El Minia.
Sponsorship from
the Goethe Institute and Robert Bosch Stiftung in El Minia led to the expansion
of the festival to performances outside of Cairo; thereby providing access to a
larger audience. Minia artist Hassan Shark will display his paintings at the Roman Theatre
in El Minia, which have been featured internationally and promise to be one of
a kind.
While the
festival includes various arts and crafts ranging from musical performances to
workshops and local art exhibits, there will be something for everyone; whether
it is a live show or the chance to spin a little pottery of your own.
Given that one of
the main goals of the festival is to fuse local and international artistry and
to create a cultural exchange, musical performances will include bands from Germany, Holland,
Switzerland and Spain;
covering various genres from Cuban folkloric music to electronic mixes. Also
included in the line-up are local bands such as El Dor El Awwal and Al Nil
band.
Throughout the
entire festival, works of art, including sculpture and pottery, will be on
display at Darb 1718, in addition to Darb's latest exhibit, Uncovered, which
provides insight into today's fashion industry and its relation to the state of
society.
Head out to Cairo
Jazz Club this Thursday night for the opening ceremony featuring Spanish band La
Banda del Pepo. During the festival, the Cairo Jazz Club imposes no cover
charge as usual, and drinks are priced normally. Seeing as Cairo Jazz is known
for its strict front door policy, you may want to go ahead and book in advance.
You never know.
Take this weekend
of opportunities to soak up a little artistic and musical talent that might
just inspire you to start something of your own.
For more
information about the Art Beat
Festival or for
the festival's schedule, check out our events listings.