Who wouldn't like to take a nap in their favourite filmmaker's house, who's also dead! In Bergman Island, it's not at all impossible. A filmmaking married couple, screenwriter Chris (Vicky Krieps) and her director husband, Tony (Tim Roth), retreat to Fårö Island, where the Swedish director Ingmar Bergman whom they both admire, lived and filmed many of his works, in attempt to soak enough inspiration for their respective works. 
The couple stay in the house where one of Bergman's most celebrated works, Scenes of a Marriage was filmed, a detail that the host remarks on with humour, "The film that made millions of people get divorced." The film isn't subtle about the trials and tribulations, which are really little more than scenes, it's about to put the couple in. Both filmmakers are concerned with relationships, the said and unsaid, between couples. Tony, the more successful of the two, refuses to speak of the story itself, only saying that it's set on the Island and concerns the invisible things circulating within couples. Later, Chris, who's struggling with her script, tells Tony with great detail the story of her own film. And here a film-within-a-film starts taking place; Mia Wasikowska and Anders Danielsen star as her characters, Amy and Joseph respectively, old lovers who reunite on the Bergman Island and reignite the spark between them.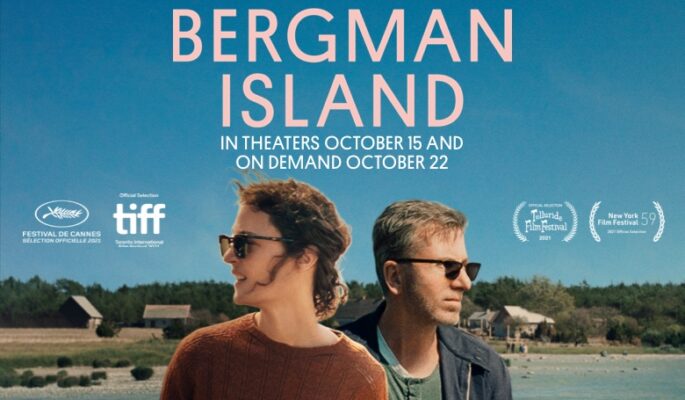 The film moves sparingly and leisurely, delighting in the sunlight, in no haste to make its point, as the characters go on Safaris (a Bergman Safari!), and delve in the ocean, but mostly, as they follow the footsteps of Bergman. Chris shows more interest in his personal life than Tony does, asking about Bergman's relationship with God, death, and nine children most of whom are estranged to him. She's disappointed with most of the answers, "I like a certain coherency," she explains, "I don't like it when artists I love don't behave well in real life." Alongside the simultaneously unsubtle and subtle depictions of marriage and couples, the director Mia Hansen-Løve nudges at the discomfort that comes with the discovered discrepancy between the great artists and the people they mistreated in their lives. Relevant now more than ever, as every ill-deed comes to the light within Cancel Culture faster and more uncompromising as ever. 
Despite the tangent getting more time, with Chris's increasing restlessness over both Bergman's life and films, at one point questioning whether society would allow her the same forgiveness as Bergman if she were to have nine children with five different men, and essentially abandon all their care for her filmmaking career. She wondered why all his films were so dark and unhappy, the film fails to take on any meaningful path with it. For a filmmaker's style that is mostly autobiographical, it's easy to see that those are the real concerns of Mia Hansen-Løve, and understandably, many other, especially female, artists. 
With a dreamlike, soft, nearly melting, cinematography and spoken dialogue, the film isn't a cruel poking of a married couple broken by life, marriage itself, and the art between them. It's nowhere  Bergman's own Scenes from a Marriage, and perhaps it does deserve acclaim for not taking that road. The relationship between Chris and Bergman himself remains the most interesting of the film and the film within a film, one that was done well but perhaps could have had more focus. Bergman Island isn't exactly an ode to Bergman, even though it both pays homage and pokes fun at him, but it is an ode to the complexities invoked in our relationships with the artists we admire, and perhaps hope to immaculate the best of. 
Bergman Island is Currently Showing at Zawya Cinema