Future Shorts Film Festival: Global Film Network Comes to Cairo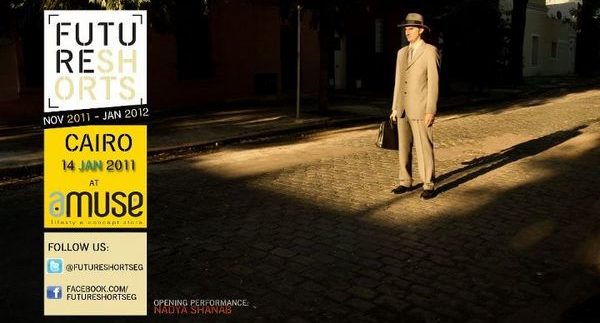 On Saturday January 14th, Cairo will become
number 132 on the list of networked cities that have come to share the best
short films from around the world under the Future Shorts banner. Describing
their events as 'pop-up' film festivals, Future Shorts has been built on the principles
of accessibility, autonomy and innovation. As a network, the Future Shorts Film
Festivals champion the best short films from around the globe and circulate
them to participating cities.
Four film enthusiasts, Salma and Kareem El-Shaffei, Sara El
Adl and Mostafa Talaat, have brought the Future Shorts matrix to Cairo for what
will hopefully be the first of many events to come. The inaugural festival
couldn't have come at a better time as co-organiser Kareem El Shaffei testifies
in their press release: 'When the
revolution took place there was a natural yet unexpected surge of artistic expression
that had been suppressed. This is the best time to bring the world's biggest
pop-up film festival to Egypt – everyone is thirsty for art.'
Twenty-five year-old art buff El –Shaffei hits on two
important notes. While there has never been a shortage of creative energy in
Egypt, there's no doubt that prior to last January, it was seldom celebrated and
the product of said creativity was never more than fleeting in exposure.
Film in particular has suffered for one reason or another;
lack of funding and subsequent lack of mainstream interest being the two main
reasons. This is where short films come in. As a platform, the short film is an
art unto itself. Filmmaking is the most financially demanding of artistic
pursuits, but the creative span of short film allows much more. Exposure to a
huge network like Future Shorts can breathe life into young filmmakers. More
than just having access to some world class award-winning films; it can inspire
and motivate.
One of the films to be screened on Saturday is Mohamed
Hammad's Ahmar Bahet (Pale Red),
which won Best Short Film honours at the Alexandria Film Festival and the Kazan
Film Festival in 2011. The film follows Shaimaa as she struggles through sexual
adolescence. Usually, a film like this might otherwise be dismissed as peripheral,
but the fact that it has been picked up internationally and subsequently by
Future Shorts should serve as a mark of progress.
Also being screened at the event is The Eagleman Stag, a BAFTA-winning stop-motion film that also
picked up honours at the Los Angeles Film Festival, and Oscar-winning God of Love; a quirky comedy about a
love-struck darts player who gets a hold of love-inducing darts, as well as Argentinian surrealist film Luminaris.
Revolution or not, El Shaffei is right about one thing; now
is the time for filmmakers in Egypt to take heed from their equals abroad.
Future Shorts will take place at Amuse in Zamalek,
and the evening will open with a live performance by folk-rock singer Nadya
Shanab. Tickets cost 75LE and are available at the Maadi, Zamalek and
Heliopolis branches of Diwan, or you can book via Tazkarty.