Hossam Dirar: Egypt's Contemporary Art Crusader
written by
Nadine El Shiaty
He's the type of artist whose clothes are covered with colourful paint stains; the kind who doesn't like to constrict himself to a specific form of art as long as he conveys his vision. Upper Egyptian in origin, 37-year-old Hossam Dirar is a multi-disciplinary talent, not to mention, one of the most interesting contemporary artists in Egypt.
We sat down with Dirar ahead of the launch of his new exhibition, Invitation au Voyage, to talk about his winding journey in the arts, the pillars of his inspiration and the future.
Dirar's Debut
Having developed a passion for art growing up, it seemed almost impossible that Dirar would grow up to do anything else. It wasn't till university, though, that he was able to explore art in all its facets and elements. Majoring in Applied Arts with a specialisation in graphic design at Helwan University opened Dirar's world to everything from photography to calligraphy.
Following his graduation, Dirar worked as a graphic designer for 10 years, during which he built a name for himself as one of the best in Egypt and in the Middle East, by introducing unique and innovative graphic artwork with a daring artistic edge.
When the January 25th Revolution erupted, Dirar's artistic path took a different turn as he found himself drawn to the emotions in the streets.
"I started recording and documenting the things I witnessed during the January 25th Revolution because I was truly inspired. I started to create paintings out of the scene."
Dirar as a Contemporary Artist
Following the revolution, Dirar once again began exploring the arts, visiting exhibitions, galleries and museums, while, in the meantime, exhibiting his work in Egypt, Bahrain, Isenberg and Rome.
Tapping into contemporary art is what Dirar considers his actual professional head-start; the moment when his main priority became focusing on the idea that he's trying to convey, rather than the artistic medium he should be using.
"Contemporary art is not about creating something beautiful. It's about the concept. It's about what you want to say. In contemporary art, the idea is what matters the most and that idea is what defines the medium," Dirar said, adding that the medium could be anything from painting, video art, sound or art installation.
Egyptian society – with all of its complexities – is one of the fundamental elements in Dirar's artwork. He points to social issues that affect him as an individual and expresses them through art.
"Art is one of the things which can perfectly tackle a social issue at grass-roots level. The society I live in needs to steer away from archaic traditions, customs and prejudices and I believe that art is the one element that draws people's attention to these issues."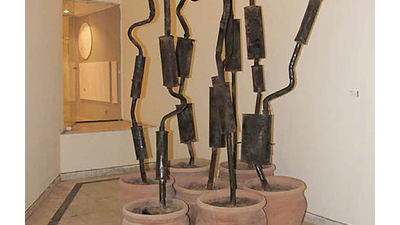 In 2013, the issue of pollution was in his crosshairs and he provided one of the most memorable visuals of the year: a flower pot with an exhaust pipe coming out of it. "Nature is depleting around us and it seems to me that we plant exhaust pipes more than anything else."
Another interesting instillation Dirar post-revolution saw he split a traditional ahwa chair in half, with one half laying down a corner, the other at the very end of the room where a TV without signal was also placed.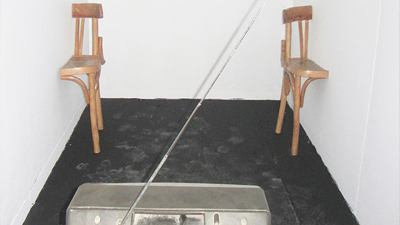 "I wanted to address how the Egyptian family was torn apart because of how differently they perceived the revolution. The media tore people apart during that time."
Last year, Dirar worked on an installation highlighting the lack of access to clean water in Egypt. Using that concept, Dirar brought the traditional Egyptian olla and glued a brand of mineral water on it.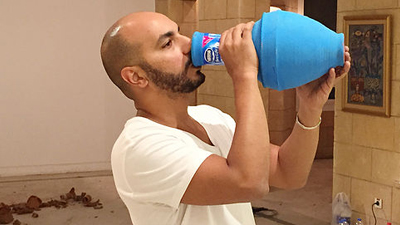 "The Nile, what was once a symbol of pure clean natural water, is now replaced by mineral water packed in harmful carcinogenic plastics and they're only accessible to the people who can afford it," Dirar told us, adding that, through his piece, he was trying to advocate the idea of having water purification plants in Egypt, facilitating the access to clean water.
Dirar loves to work with oil painting because he likes its thickness on canvas; only he doesn't like to soften its texture, as he believes that the life we try to reflect through art is neither smooth nor refined – it's noisy, chaotic and full of intrinsic details.
In terms of tools, Dirar prefers the spatula over the brush, stating that the latter is rather constraining.
"The brush makes me paint – but I don't want to paint. I want to release the energy and the ideas inside me. When I work with a spatula, I feel like a warrior, a dancer, a singer. All the energy that I have is released through the strike of the spatula and, to me, it's much more liberating."
Invitation Au Voyage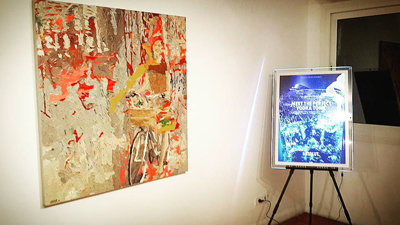 Inspired by a poem carrying the same name from Charles Baudelaire's exquisite Les Fleurs Du Mal, Dirar's latest exhibition is showing at Zamalek gallery, Art Talks.
Comprised of 13 paintings, Dirar's Invitation Au Voyage is built on the concept of freedom, using women and bicycles in his aesthetic.
"I'm trying to show people that by embracing something as simple and as beautiful as riding a bicycle, without any religious or patronising perspectives, we're changing an entire nation's thinking and perceptions," explained Dirar.
The presence of female figures in Dirar's paintings isn't a new theme; women's rights are at the core of the issues Dirar tries to tackle through his artwork.
"I like to focus on the hidden power and potential that women have, which is constrained by our patriarchal society and, in most of my paintings, I try to convey these women as independent, free and escaping all limitations."
Art in Cairo
According to Dirar, Cairo is one of the most inspiring cities for an artist; a place where art can truly thrive. "The spontaneity, randomness and chaos of the city is art in itself. If you shoot the street with its noise, movements, cars, vendors and passersby, that's video art. If an artist abroad tried to copy that scene, it would never be that authentic," Dirar insists.
In drawing inspiration for new projects, the poet Galal El Din El Roumy strongly inspires Dirar. "What I love the most about El Roumy's work is the idea that we are ultimately the same person. As simple as it is, the idea that you and I are one could really change the world and promote a great deal of tolerance."
When exhibiting in Egypt, Dirar chooses the themes of his exhibitions according to their relevance to society; whereas his themes are more abstract and complex when exhibiting abroad.
"Artists abroad have more room to think critically about contemporary art and, as much as the art scene is thriving in Cairo, Egypt still haven't fully embraced contemporary art, which is why I always like to base my artwork according to how my audience will perceive it."
The Rise & Fall of the Andalusian Civilisation: Dirar's Next Big Project
For his upcoming project, Dirar is carefully studying Andalusian history and how it went from power and prosperity to deterioration; something that he believes might take years to accomplish.
"I'm trying to understand how we lose a civilisation. I chose the Andalusian civilisation because I somehow feel it's related to what we are currently facing in the Arab world. Andalusia was strong as one nation, before war tore it apart into 22 different countries," Dirar continued, adding that by addressing a fascinating civilisation like Andalusia could drive people to think about the Arab world's current status quo.
Whatever the subject, Dirar has never been shy of experimenting, explaining that it's the multiform nature of art and its endless possibilities that drive him.
"Knowing that I am here to create art is what keeps me going. It's what inspires me to continue doing me what I am doing and to never give up on my art."
(Photos: Hossam Dirar)