Mr. & Mrs. Mahmoud Khalil Museum:Take a Step Back In History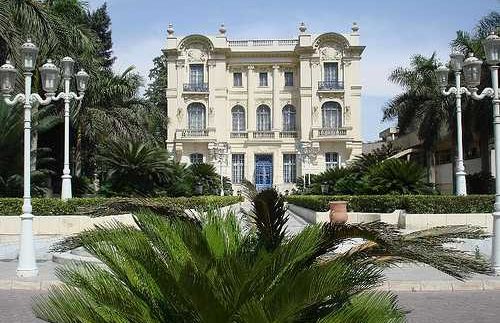 Mohammed Mahmoud
Khalil was a prominent politician, minister of agriculture, and speaker of the
senate. He purchased this 1915 Nile-side
mansion with his French wife, Emiline Lock, whom he met while studying law at
the Sorbonne in Paris. They both had a passion for all things
French, and together amassed a collection of art that is unique in Egypt
and one of the most extensive and most valuable private collections
worldwide. Today, the mansion is a
museum where the public can enjoy the precious art collection once reserved for
elite eyes only.
The mansion was
built in Art Nouveau, Art Deco, and Neo-Classical styles, with a grand stained
glass window over the staircase attributed to a French artist. The four-level house displays Khalil's
collection on three of them, and the powder blue walls with gold accents are
the perfectly atmospheric place to exhibit such a collection.
The impressive collection
consists of 208 works, mostly of French Impressionists. The collection began
with Khalil's first purchase of a Renoir for 400LE. Other works of art include pieces by Monet,
Toulouse-Lautrec, Pissaro, Gaugiun, Ingres, Van Gogh and Rodin.
At the time of our
visit, two of the pieces were touring Italy , and the museum has a special
room dedicated to its most expensive painting, Gauguin's Life and Death; estimated at a cool US$85 million. The second most valuable, Van Gogh's Poppy Flowers– currently on tour– is a
not-too-shabby US$55 million.
Khalil also
collected vases, perfume bottles and ceramics from China,
Japan and Iran. His collection includes
statues of bronze, marble and gypsum, a rare selection of tobacco boxes in
Japanese style, and miniatures by Chinese artists in precious stones.
Highlights of the
collection include Monet's Bridge Over
Water Lilies and another of his Westminster
Abbey series, one of Ingres' elegantly elongated Odalisques, one each of Rodin's famously rustic The Thinker and The Kiss, and Khalil's very first painting– Renoir's Young Woman Wearing a White Tulle Tie. One of our favourites is Fromentin's oil
painting of a young group of African girls lounging by the Nile
beautifully.
Khalil's love of
art also saw him as an active participant in Egypt 's 20th century fine arts
scene; he nurtured and enriched the cultural movement in a myriad of ways. He co-founded and chaired the Society of
Lovers of Fine Arts, was the Commissaire-General of the Egyptian Pavilion at
the International Exhibition of Art in Paris in
1937, and co-organised the French Exhibition of Fine Arts and Décor in Cairo in 1938.
His activities
were later rewarded with the title of Correspondent of the French Academy of
Fine Arts in 1948, and his sponsorship of the exhibition of décor Egypt-France held
in Paris in 1949 led to his being elected a member of the French Academy of
Fine Arts later that year.
When Mohammed
Khalil died in 1953, Ambassador Couve de Murville eulogised him during the
embassy's traditional New Year's address by saying, 'France
had lost its best friend ever in Egypt.'
Emiline
bequeathed her inherited mansion to the state, and after her death in 1960, the
museum was inaugurated in 1962 by the Minister of Culture. When Anwar Sadat became president, he took
over the mansion for his offices, built a helipad on the premises, moved in
next door, and stored the artworks in Prince Amr Ibrahim's palace– now the
Islamic Ceramics Museum in Zamalek. The art collection remained there for twenty
years. After Sadat's death, the
mansion's future became uncertain, but twelve years later in 1995, the museum
was re-inaugurated and restored in its original setting.
The restoration
also added a cafeteria, a gift shop and a modern lecture theatre for film
screenings and cultural activities. There is also a state-of-the-art gallery called the Ofouq One Gallery on
the museum's grounds, which is reserved for travelling exhibits.
the Museum is of Egypt 's most unique galleries and still the only
public place in Egypt
to hold these painters' priceless works of art. The museum will be closing for two-year
renovations later this year. Go take a
peek in its current form while you still can, but avoid mornings when it's
swarming with tour groups; enjoy a peaceful afternoon visit instead.

Hours are 10AM-5PM, with the last
tickets sold at 4PM. Tickets cost 25LE for foreigners,
12LE for expats, 5LE for Egyptian residents, and 1LE for Egyptian resident students. As with many museums, it is closed on Mondays. To arrange group tours,
contact museum director Reem Bahir at 23338986.