The Art of Belly Dancing in Cairo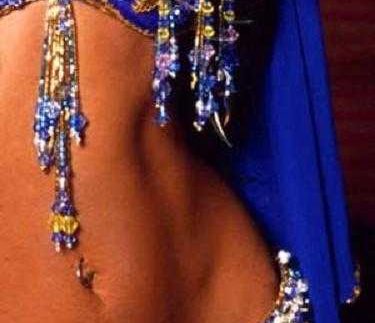 written by
Anna Skibinsky
While belly dance enthusiasts around the globe rely on YouTube videos to catch a short glimpse of their favourite stars, Cairo residents are a mere taxi ride away from some of the most famous contemporary belly dancers in the world. In the eyes of the international belly dance community, Cairo is the number one destination for raqs sharqi (oriental dance) otherwise known as belly dancing. However this art form seems to be dwindling in popularity amongst the Cairo elite who opt for more western forms of entertainment. Here we take you on an excursion, to explore one of the capital's most prized cultural past times.
"Belly dance is a very high art form, and it is as difficult to learn belly dance for stage performance as it is to study ballet," says Aleya, a resident belly dancer and instructor in Cairo. "Egyptians should keep their beautiful dance alive; currently, foreigners are the ones who are keeping this art form alive," she adds.
The term "belly dance" was coined by Westerners after Napoleon's invasion of Egypt, when they observed traditional folkloric, or baladi Egyptian dance. Some dance historians think that the term "belly dance" came about because folkloric Egyptian women dancers did not wear corsets and their dance movements emphasised the movement of the stomach.
Belly dancing became popular in Cairo's night clubs during the 1940s, the most famous being Casino Badia in Giza which was opened by a woman, and fashioned after European cabarets. Famously patronised by a mixed lot of World War II officers, spies and rogues, belly dancing reached an unprecedented peak when King Farouk officially proclaimed belly dancing as an art and named movie star Samia Gamal as "The National Dancer of Egypt".
While belly dancing has grown as a world wide trend both as a performance art and a form of exercise, today most Cairo residents do not frequent the posh hotel cabarets and cruise boats where leading belly dancers perform. "Until 1994, night clubs in Cairo were full, everyone would come to see belly dancers," said Mohamed Abou Shebika, head organiser of the Nile Group Festival, in a recent interview. The festival brings hundreds of dancers from around the world to Cairo several times a year to train with Egypt's top belly dance instructors and choreographers.
"Eighty percent of Egyptian weddings [used to have]a belly dancer performing. Whether rich or poor," said Shebika. He sees the decline of the dance form in Egypt as a result of the economy, where dance has become a luxury many have chosen to forgo.
Other reasons for the decline could be the bi-polar perception of the art amongst Cairenes, with the more liberal youth feeling its something better suited for their parent's enjoyment, and the more conservative locals seeing it as too risqué.
According to Aleya, what distinguished true belly dance stars such as Soheir Zaki is that "their moves weren't sexual in nature or at all vulgar. Belly dance during [that] time was an elevated art form and the dancer took care when choosing her costumes and music."
Belly dance certainly has its appeal. Unlike other dance forms like ballet, there are few if any shape constraints for performers. A big part of belly dance is the sparkling-costumed display of the female form in all its curvy and often voluptuous glory. Sometimes it's "the more the merrier" – fullness of figure and curves on female performers add to the colourful, celebratory character of the dance.
From Aleya's experience as a performer in Cairo, "it does not matter to Egyptians whether you are the 'best' dancer technically, but that you can form an emotional connection with the audience while you are on stage." In spite of the reported decline, this is one art form that will stick around.
Cairo's Stars and Where to Enjoy Them
Cairo is the Broadway for professional belly dancers aiming for stardom. The best dancers are a mix of Egyptian and foreigners who trained and studied for many years in Egypt and their home countries.
Soraya is of Lebanese origin and hails from Brazil; she performs at the Marriott Hotel in Zamalek.
Randa Kamel is Egyptian and is one of the biggest international names currently performing on the Nile Maxim boat.
Dina is the superstar of belly dancers and performs once a week at the Intercontinental Semiramis Hotel.
Camelia and Nancy are both Egyptian and perform on the Grand Hyatt Boat.
Lucy is pure Egyptian and considered one of the country's best dancers. After performing at high end hotels, she now dances at her own club La Parisiana on Haram Street three or four nights a week.
Aleya is American and performs all year round at the Nile Group Festival and Raquia Hassan's Ahlan wa Sahlan festival. With over thirteen years of experience as a performer and instructor, she teaches private and small group belly dance lessons in Cairo.
For info on classes click here.