Cairo Weekend Guide: Egypt Falls into Autumn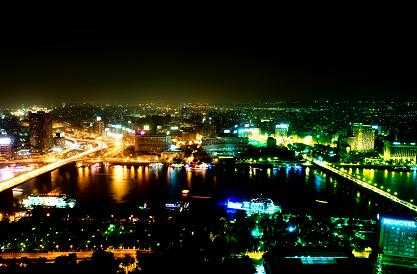 Cooler nights mean only one thing in Cairo– it's time to head to your favourite open-air nightspot for a welcome break
from blaring ACs and a chance to catch the first autumn breezes.
Cairo's art galleries and theatres are back in full swing after a summer
reprise; so take advantage of your free time this weekend to peruse the season's debut of exhibitions, workshops,
concerts and other exciting activities.
The recent opening of La Gourmandise in Maadi gives us a whole new reason to enjoy an
afternoon in the suburbs, while the Jazz Club is back to its old crowded,
festive self with an exciting weekend stage schedule. Super Fly takes the stage with a show of acoustic jazz on Thursday,
while local band Sahara will play to a full house on Saturday
night. More music shows include Khaled
Youssef performing Nubian music at the Sawy
Culturewheel on Thursday evening, while the curiously named rock n' roll band Karma & Mascara will perform there on Saturday. For a weekend grand
finale, world-acclaimed opera singer Andrea Bocelli will flaunt his classical vocals to Cairo with a concert at the Giza Pyramids.
Makan's open mic-night Project Yourself! has garnered something of a cult following among Cairo's amateur
performers; head to the Downtown cultural center to sign up for your seven
minutes of stage time, or go to support the local talent. The show promises high energy, an intimate and friendly atmosphere and a lot of fun performances.
Omar Bilbeisi's colourful graphics show Huroof continues at Articulate Baboon
Gallery in Designopolis, while Masterpieces
VIII shows works of art by local artist at the Zamalek Art
Gallery. Ahmed Kamel
shows a series of photographs and installations at Mashrabia Gallery; so take the
weekend to expand your artistic horizons.
While we adore the mercifully dropping
temperatures during the day, do remember that autumn means that the days of
weekend beach expeditions are numbered; you may want to take an afternoon off to
enjoy a day at one of our favourite swimming pools for one last chance to perfect your summer tan.
Otherwise, exploit the cooling weather and take a nice, long walk around your neighbourhood- we recommend the Corniches of Maadi, Manial and Garden City, as well as the gardens of Maadi, Sheikh Zayed, Katameya Heights and Zamalek.
Whatever you get up to, be safe and enjoy!