Horreya Garden: Quiet & Serene Sanctuary in Zamalek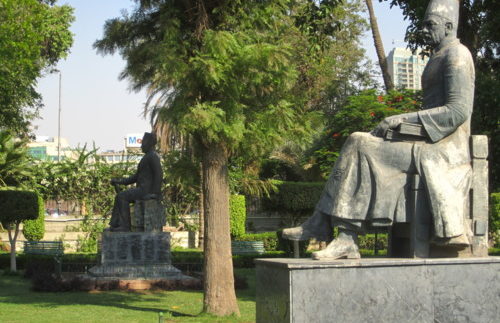 Visitors and locals have always lamented the lack of green areas in Cairo and, though there are a few, they're uncommon enough that we have all given up hope of easy, accessible public parks and gardens. However, Zamalek's Horrey Garden, stands as one of the most underappreciated and even unknown.
This beautiful and tranquil environment offers what the majority of places in Cairo don't— a peaceful and relaxing atmosphere amongst natural creation. Situated just off of Gezira Square, this calm green location is a must visit. Many people today still know Horreya Park as 'Mahmoud Mukhtar Park' as it was once connected to the Mahmoud Mukhtar Museum over two decades ago. However, in 1991 all of this changed and it became a separate exhibition and given the new name of 'Horreya Garden'.
So, what's inside Horreya Garden?
Well, contained within these grounds are eleven statues in total, each inscribed with a name, date of birth and death, and exactly who this person was or what he did.
Amongst the eleven statues is the 'Prince of Poetry', Ahmed Shawky. Another is inscribed with the name, Ramon Castilla, who abolished slavery in Peru in 1854 – this statue was a gift to Egypt from Peru.
Each of these statues is of a highly important figure who made significant and positive changes in his country and has aided the freedom of his people. Much like the statue of Ramon Castilla, most of these statues were gifts to Egypt from countries in Latin America including Mexico, Venezuela and Ecuador. In fact, the focus of Horreya Park is actually on the relationship between Egypt and Latin America.
Horreya Garden, which means 'freedom' garden, costs just 3LE to enter and you can spend as much time inside as you wish between the hours of 9AM and midnight. It really is beautiful inside with a red-bricked footpath running throughout the garden amongst tall palm trees, bushes and fresh green grass. During the summer months, the night time is the most stunning time to visit as you will walk beneath the velvety starlit sky and dotted around there are several street lamps to light the way. It's quite romantic and great for couples, providing many wonderful photo opportunities, so be sure to take a camera along. Also depending where you are it is possible to see Cairo Tower which is also beautiful at night time.
Horreya Garden is a great area to enjoy a picnic on the grass, or a drink in the park café sat on the chairs beneath an umbrella providing comforting shelter from the sun.
So whether it's to learn a bit of history or just to escape the hustle and bustle of Cairo's noisy streets, Horreya Park is a great little sanctuary day or night.