Ramadan Guide to Wasting Time after Fetar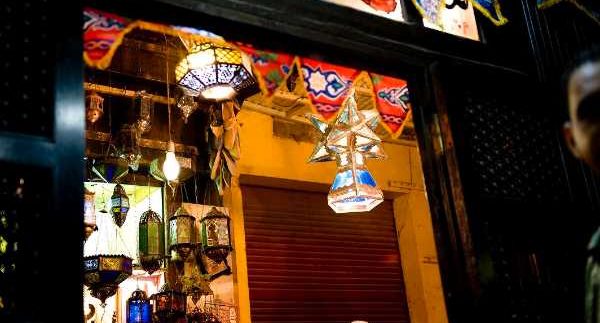 After a long day of Ramadan fasting and a heavy fetar
meal, lazing in front of the television before rallying for sohour gatherings
is standard procedure in Cairo.
The Ramadan tradition of meeting friends for a late-night meal or shisha and
tea never goes out of style, but it doesn't hurt to shake things up a bit by
trying something completely new. Cairo has so
much to offer beyond cafés and restaurants, so grab some adventurous friends
and check out some of the ideas we've come up with for post-fetar escapades in Cairo.
Mustafa Kamel
Square in Maadi: Known as 'midan el fawanees' (lantern square) to
Maadi dwellers, this charming square in the heart of Maadi offers a festive and
free outdoor place to lounge during Ramadan evenings. The trees in the centre
of the square are decked out with dozens of illuminated fawanees, and it's a
great place to take pictures with friends, eat a sohour snack of succulent
shawerma from nearby Shawermer, or simply sit around admiring the lights. It's
a popular location for Maadi residents; some even admire the lights while reclining
on beanbags pulled out of the trunk of their cars!
Kick A Ball
Around: Fetar feasts call for some serious evening exercise;
so why not book a soccer field and kick the ball around with a few friends?
Compounds and clubs around the city offer bookings for residents and members,
who can bring their friends in for a bit of sporty amusement at all hours of
the night. At about 25 LE per person for an hour of play, this type of fun
doesn't get much cheaper!
Catch a Ramadan
Concert: Ramadan is a great time to head to Azhar Park
where you can walk off a heavy fetar and enjoy an open-air concert at Al
Genaina Theatre. Over the past few weeks, the theatre has finished prominent
Arab singers and compelling musicians from around the world. Upcoming acts
include Belgian-born Natacha Atlas, the Simon Fagan band from Ireland, local
band El Dor El Awal, and an evening of music presented by The Arab Youth Music
Platform. Beit El Suhaymi, Beit El Harawi and Wikalet El Ghouri also have interesting performances on, while the Cairo Opera House's open-air
theatre features exciting free shows, such as an upcoming performances by
Rasha Yeyha, Iraqi singer Aly Alward, and five nights of performances of 'My
Devotion to Prophet Mohammed' by Ahmed Maher and Ahmed El Kahlawy.
Head to the
Cinema: This may seem obvious but for some strange reason
almost no one goes to the cinemas during Ramadan. Take advantage of the late
working days during Ramadan and escape the humid evening weather by catching a
midnight show for some late-night fun. Even better, a day of fasting means a
free pass at the candy and popcorn counter– no calorie counting at the cinema this
month!
The View from Mokattam:
For those who make the trek to the top of Mokattam, Cairo's statuesque slope, ample rewards are
in order. Why not beat the pre-sohour traffic and head up there after fetar for
a great view of the city, cheap shisha and snacks in the café area? An evening
in Mokattam offers the opportunity to see Cairo
from a new perspective and how could that be bad? On a clear evening, you can
see the Citadel, the Cairo
tower and the Giza Pyramids if you're lucky. Bring a pack of cards, backgammon and
musical instruments for an entertaining evening.
Bowling: Bowling
is an underrated form of entertainment and with bowling alleys springing up all
over Cairo (try
Bandar
Mall's bowling), it's worth giving it a try. Playing a couple of games with
a few friends is the perfect way to ease out of your post-fetar food coma and escape
the rest of the night. Bowling is also a great activity to play with kids; so
grab your nephew or little sister and challenge them to a game– bumpers up!
Walk Through Old Cairo: Ramadan
is the time when local culture comes to the fore, so why not get in touch with Old
Cairo one night after fetar? Khan El Khalili is touristy, but takes on a
festive air in Ramadan so this is a good time to go. Stop for a cold drink and
a shisha in a classic Khan spot like Fishawy's or Naguib Mahfouz café. It's
also fun to catch a dervish performance down the street near Al Azhar Mosque or
to stop by Beit Al Oud for a casual live performance of Arabic instrumental
classics.
Even if you plan a night in, the fun late-night spirit
of Ramadan will have you and your friends enjoying board games and snacks until
the early hours of the morning. Ramadan Kareem!