Cairo Walking Group: Good Exercise Meets Adventurous Backroads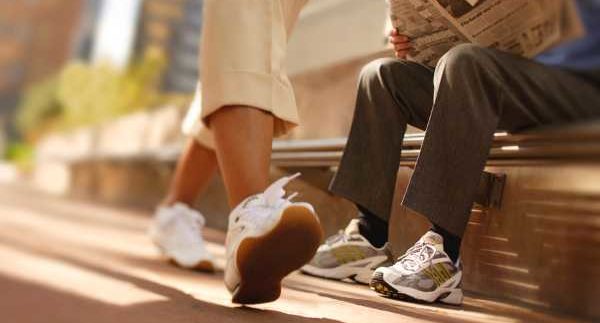 written by
Aleksandra Sekinger
Walking is an easy exercise that helps boost the body's energy levels
and maintain a healthy lifestyle. Walking is also a great exercise for fat
loss. Most people think that they will lose weight by burning calories quickly
through exercises like running or jogging. However, permanent weight loss takes
place over time and exercises need to be easy to maintain. Thus, walking is
one of the best exercises to increase and maintain permanent weight loss.
Despite the many health benefits, let's face it; Cairenes don't walk
enough. In our defence, Cairo
isn't exactly a walking-friendly city. There are few sidewalks and most of us
get almost run over just doing everyday errands. Thankfully, Muhammad Farag created the Cairo Walking Group for
extra-long walks on quiet and car-free Friday mornings. Away from the noise and
exhaust of the regular Cairo
traffic, participants enjoy long walks where they soak up the sun, exercise and
discover the city.
The Cairo Walking Group started in 2008, when Farag decided that he
wanted to take a leisurely walk from Downtown to the Citadel. So, he posted his
tentative plan on email listing group Cairo Scholars, and asked if anyone would
like to join him. The response was tremendous; and the following Friday, a group
of twenty five people journeyed to the Citadel, uncovered some interesting spots
along the way and had some great conversations. Just like that, the Cairo
Walking Group was formed.
Farag comes from a family of walkers. His dad would often take his whole
family out for strolls around the city. Farag carries on the tradition and
believes that walking can open up a new side of Cairo to a Cairene or veteran expat. Additionally,
many of the best eateries, cafés and shops are usually off the beaten track.
Not only is walking great for a Cairene's health; but why not take it as an
opportunity to explore our maze of a city?
Previous walks have taken participants through Giza Zoo, Khan El Khalili
and Heliopolis.
The group tends to attract like-minded people that are usually quite
intellectual; so it's a great way to socialise and meet new people. Farag is quite
a budding conversationalist himself. Just say one word about politics,
literature and history; and prepare to have a discussion with a very creative
mind.
On average, the group draws fifteen participants each month. Farag's
favourite walk is the route from Tahrir to the Citadel, which the group has taken
five times in the last two years. In the future, Farag is looking to branch out
with walks to the Pyramids, Abdeen, Attaba and Korba. He even revealed that
he's hoping one day to lead a week-long walk to Alexandria .
The Cairo Walking Group meets about once a month, usually in Tahrir on
Friday mornings around 9AM during the winter and 8AM during the summer. On
average, the walks take two-and-a-half hours. Cairenes, expats and visitors are
all welcome to join. Farag has made a science out of walking in Cairo , and he even posts
maps of the exact route taken later on Facebook. The Walking Group is
absolutely free of charge and a great way to explore our city.
For more information and regular updates, join the Cairo
Walking Group on Facebook.