Eight Awesome Swimming Pool Day-Use Getaways in Cairo
Summertime and the living is easy – well, not in this weather and not when you're stuck in the city for most of the summer. But there are two things you need to remember about Cairo in Eid; the traffic is ever so slightly clearer and there's plenty of hotels offering pool day use packages so you can enjoy a great day by the pool during the summer without falling into a pit of envy as all the friends who are spend time soaking up sun, sea and sand. So without further ado, summer is here – let the fun begin…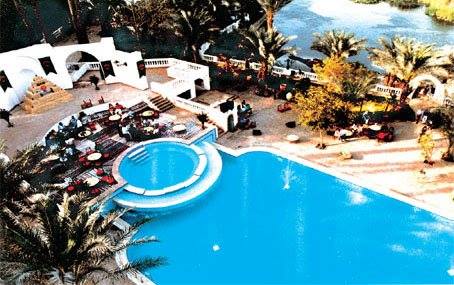 Nile-side venue Royal Club Mohamed Aly is not only notoriously popular for hosting great wedding and nightlife events, but also has a great pool which overlooks its impressive Islamic architecture lodge. For 200LE, you can enjoy an all-day long pool day use with your friends and family.
If you're looking for a lavish pool day use experience in the heart of the city, look no further than the Ritz. For 1,400LE per couple, you can have a dip at Nile Ritz-Carlton's gigantic pool, with full access to one of the Ritz's fully equipped cabanas, complementary assorted nuts, seasonal fruits, water, soft drinks and access to the health club. The hotel also offers supplementary food packages for couples with 600LE for seafood and 500LE for grills for the optimum holiday experience. Call 02-2577-8899 for more information.
If you're looking for a memorable pool day use experience with an exquisite view, Mena House hotel is exactly where you should be. For 350LE (without a room) you can enjoy Mena House's gigantic pool with a nice meal and 700LE on a double room basis, also with a meal. For more information and reservations, call 02-3377-3222.
Seize the Eid to enjoy the view of downtown area and the Nile, all while plunging in Conrad's outdoor pool. For 708LE, you can enjoy a pool day use, while also getting access to the hotel's sauna, gym and lockers. For more on the offer, call 02-2580-8000.
With Fairmont Nile City's rooftop Skypool overlooking the whole city, there are few better spots in the Cairo that offer as spectacular a view – a perfect setting to enjoy a pool day-use at Fairmont Nile City with an access to the sauna and the steam room to boot. For more infor on prices, call 02-2461-9494.
Perhaps it's not the best option for avid swimmers, but Sofitel's stunnin infinity pool is perfect for a laid-back pool experience with an exquisite panoramic view of the Nile. For 600LE++, you can book a room and enjoy one of the more lavish pool getaways available.
It may not be your obvious choice for a day by the pool, but Seasons Country Club is ideal for a pool day use with family. For 200LE, enjoy a great day by the pool and while you're at it check what the club's restaurant has to offer. For more information, call 02-3838-7389.
Another of the more reasonably priced pool getaways, Sakkara Country Club offers its great pool at 230LE per person. While its rooms are only offered for its members, you can still enjoy a great pool day that includes lunch.