FB Stables: Horseback Riding near The Giza Pyramids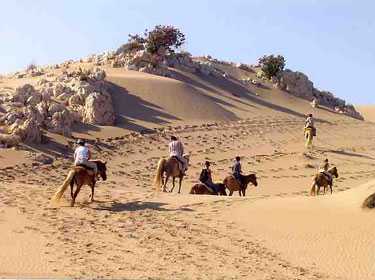 Horseback riding in the Cairo desert within sight of the Giza Pyramids
sounds like an enchanting idea to tourists, expats and Egyptians alike. That
is, until potential riders step out of their taxis by the Sphinx only to be
overwhelmed by stable-boys jostling for their attention and patronage. Such
misfortunate guests eventually find themselves perched on uncomfortable,
under-fed bags of bones and holding on for dear life while a screeching
stable-boy with a whip follows behind to make the poor animals run. It may be a
memorable experience, but more than likely it's not quite what most visitors
have in mind.
However, further down the line of stables visitors
can find precisely what they're looking for in FB Stables. Located near the end
of the rows of stables, FB Stables offers guests a breath of fresh air and a
gallop through the desert that is pleasurable as well as unforgettable.
Run by Farouk Breesch and his sons, FB Stables
provides healthy, well-fed horses for riders of all abilities. Never ridden
before? FB has a calm, easy pony for you, and they'll teach you the basics to
ensure that you have a fun ride. Grew up on a horse? Try out Diesel, or one of
the other more advanced horses, and enjoy a few nice gallops.
Riders can relax in the shade in front of the
stable with a cold soda or cup of tea before and after their ride, or even
enjoy lunch with a panoramic view of the Pyramids from one of the terraces
upstairs. The boys will be happy to send someone to pick up your meal – shawerma
and taameya, perhaps? – and call you a taxi at the end of your ride. Farouk will sit and talk with you while you
wait.
One trademark of FB Stables is their
tailor-made rides. Instead of simply galloping up and down the same strip of
desert that most stables use, FB offers several options. Instructors will take
you on an hour-long ride to spots with incredible panoramic views of the Giza Pyramids
or farther out into the desert. If you're up for a longer ride, you can take a
half-day ride to the Abu Sir Pyramids and break for lunch at FB's sister
stable, Amina, or even take a day-long trip to Sakkara
or Dahshur.
Most rides take place outside the Giza Pyramid
complex, but you can ride inside the area as well. Seeing the Giza Pyramids by
horseback can be a great idea, as riding definitely beats walking from one to
the next! The Pyramids are farther apart than they look. If you prefer, the
stable can also arrange camel or carriage rides into the Pyramid complex.
Have you ever wanted to ride at night under the
full moon, at sunrise or at sunset? FB can arrange those trips for you as well.
Guests can even go for a full moon ride and then come back for a BBQ on the
stable's terrace.
Farouk's family offers another option for those
disenchanted by the constant horse, camel and donkey-cart traffic in Giza. Amina Stable is
located next to the Abu Sir Pyramids, about two kilometres away from the
Saqqara Country Club. Run by Farouk's son Karim and British expat Cat Bachelor,
Amina offers a calm, private atmosphere free of the haggling, shouting and
general noise surrounding the Giza Pyramids.
Amina Stable is smaller than the Giza stable and located
on a two-acre lot with plenty of open space. Like the Giza stable, Amina offers horses for riders
of all abilities. For example, Princess Fiona is a quiet chestnut pony perfect for
children and novice riders. Baraka, on the other hand, only leaves the stable
in the hands of an experienced rider.
From Amina Stable, guests can take short rides
around the Abu Sir Pyramids and to Sakkara.
There is also the option of taking a longer trip through the desert to the
pyramids at Dahshur or Giza.
Additionally, guests have the option of riding in one of the stable's three
paddocks rather than trekking into the desert.
Amina's courtyard provides a comfortable place
to relax after a long ride, with chairs and tables set up in the grass and
floor cushions surrounding a fire pit. There's even a grill, perfect for an
evening BBQ under the stars without Cairo's
typical traffic and noise.
FB Stables charges 80LE per hour for
horse or camel rides. Amina Stables
charges 100LE per hour. For special
events such as full-day rides, please inquire about prices when you make your
reservations. FB Stables is located at the end of Gamal Abdul Nasser Street,
a few blocks from the Sphinx, in Giza.
For rides at either stable,
contact Karim on 0165070288. You can also contact the stables by e-mail at rideegypt@gmail.com or check out their new website.