Eftekasat: Soaked in Diversity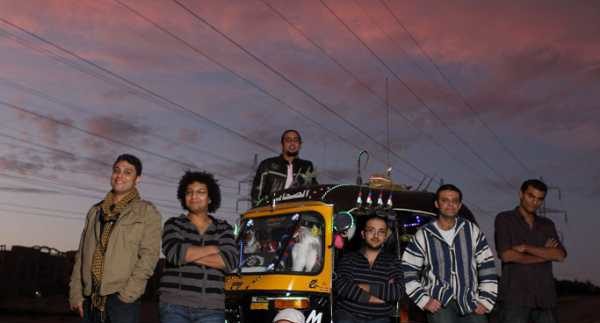 written by
Haisam Abu-Samra
Stand anywhere in Cairo and look around you. It's a hodgepodge
of old and new, East and West, dirt and gloss; everything about Cairo is in complete
discord. However, for those entrenched in the city, out of chaos comes order. Eftekasat
are all about capturing that order in their music.
Formed in 2001, Eftekasat's real start came in early
2002 when they played at the Cairo Jazz Club to an impressed audience. After
that, the ball kept on rolling. The band continued to play concerts in Egypt and
abroad, released two albums, and today they are a household name in the local
music scene.
Although their sound is billed as oriental jazz, the term
doesn't quite capture the band's essence. Many artists have tried to create a
haven where jazz melds with oriental maqamat, but their efforts produced mixed
results at best. For Eftekasat, the fusion comes organically. It's unfair to
reduce their sound to a sonic Frankenstein experiment– it's evolution.
Band-founder Amro Salah and bassist Samer George first
formed a traditional jazz band together, but the more they immersed themselves
into oriental music; the more they felt the need for something different. So
the duo teamed up with other oriental musicians and formed Eftekasat.
Given the cosy nature of the music scene in Cairo, many seasoned musicians
have contributed to, worked with, or even became members of Eftekasat– Mohamed
Lotfy (Ousso), organiser of the SOS music festivals, used to be the guitarist
until his other commitments took him away from the band. For now the outfit
consists of six members: Amro Salah on piano, synthesizers and keyboard; Samer
George on bass; Ahmad Hesham on drums; Mohamad Medhat on violin; Mohamad Farag
on nay; Sherif Watson on guitar and Hany Bedair on percussion.
In 2006, Eftekasat recorded their debut album Mouled Sidi El Latini (The Latin
Dervish) via an artist grant. It was an amalgamation of years of songwriting. The
album's tracks seemed like an open exchange with the myriad of influences that
have shaped the band's identity. The songs were varied and vibrant with musical
curiosity, and their ideas were interesting enough to garner world renowned
oud-player Naseer Shamma in a guest appearance on the album.
Eftekasat are not tied exclusively to the local scene;
they have performed in Bulgaria,
the Carthage Jazz Festival in Tunis, and the
San Jose Jazz Festival in the USA.
The band aspires to be a musical ambassador for Egypt, and they are taking
solid steps towards fulfilling their dream.
Despite all the commotion, the band has not lost track
of their message. Eftekasat is pretty adamant about the purity of their music
and they still search for order amidst the all chaos.

'I am fascinated by our
social, cultural, and intellectual makeup,' says Salah. 'I try to synthesize it
through our music by utilising the different music styles we listen to.' And in
doing so, their music subtly ornaments the Egyptian experience with jazz and
progressive rock. The outcome is pure Egyptian.

Recently, Eftekasat released their second album, Dandasha, which was produced with a
grant from the Arab Fund for Arts and Culture. Recording started in late 2009
at the Soundesign studio, with Amr Yehia producing the record. Still
experimenting with musical ornamentation, the album fuses even more influences
into its exuberant sound: reggae, jam, and some flirtatious Mediterranean
hints; 'Dandasha means adding stuff to something to make it more beautiful,' explains
Salah.
The band played to a sold out crowd at Sakia last
month to coincide with the album's release. In true jazz sprit, the band
constructs songs that inspire improvisation; and you'll probably rediscover the
value of each musical instrument during their concert. Their set is always
delivered with energy and sincerity; and the band feeds on the audience's
energy as a jam band would. It's probably the reason why Eftekasat has
cultivated loyal fans during their years of performing.
'I am happy,' replies Salah when asked about the
future. 'We're performing, we're getting by, and that's enough.' Eftekasat are performing
a number of concerts during the summer to promote their new album, as their
fans grow by the day. These jazz musicians are doing an admirable job in taking
our local music scene off life support and dragging it out into the open so that
the rest of the world can take note.