Cairo 360's Guide to Cheap Downtown Eats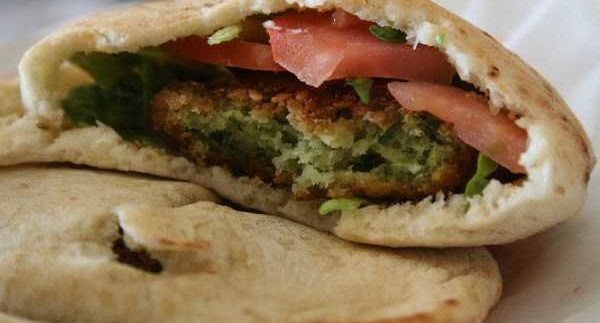 written by
Aleksandra Sekinger
Sometimes, life sure is like the movie Groundhog Day– you know when you keep
living the same day or scenario over and over again? Here's a familiar one:
You're stranded in Downtown Cairo, you're starving, and you've only got ten
minutes and 15LE to spare. Have no fear;
here are five great spots that deliver up Downtown's best in cheap, fast eats!
Kazaz: Known for
its sheer variety and fast service, Kazaz has become a downtown dining institution.
It also stays open until the wee hours of the morning, so it's a perfect place
to end up after a night out in the city centre.
Although Kazaz literally has every variety of foul and
taameya that exists, it's mostly known for its deliciously fresh shawerma sandwiches
that come in three sizes; the smallest of which is served in a semi-sweet,
sesame seed Kaiser bun for only 4LE. Another classic that makes people flock to
Kazaz is the infamous baladi burger, which consists of a beef patty, cheese and
all the fixings with a sunny-side egg on top. It's so good; you'll find
yourself lingering around Talaat
Harb Square just to have an excuse to eat one. If
you exit Ahwa Bustan towards Talaat
Harb Square , Kazaz is immediately on the right.
Abou Tarek Koshary: It's true;
there are a million places Downtown that make koshary, so why make your way all
the way to Champollion Street ?
Well, there is a reason why Abou Tarek Koshary is famous all over the city, and
why vagrants and vagabonds come from all sides of the Nile to sample their one
and only specialty.
Crispy fried onions gracefully sit atop a chunky garlic
tomato sauce and perfectly cooked macaroni, rice and lentils. Eat koshary in-house
with the lemon and vinegar sauce for that extra special something. Abou Tarek is
the Elvis of ridiculously cheap eats. It's a big spoonful of heaven for five
pounds. If you head away from Mohamed
Basyouny Street and towards Townhouse Gallery,
continue straight on Champollion
Street and Abou Tarek is on the left.
Felfela: This
tourist hotspot also has the works when it comes to Egyptian fast food classics
like foul, taameya and kebda. So, whether you'd prefer your little sandwich of
goodness eskanderani-style with tomatoes, cheese or with eggs, count on Felfela
to have all the possible combinations that you can imagine.
Although Felfela and Kazaz have very similar menus,
Felfela maintains its competitive edge by offering the one item that you can't
find anywhere else downtown: koshary with chicken and beef shawerma. It's the
ultimate instigator of a serious food coma for only 8.75LE. Felfela is right
off Talaat Harb Square
towards Café Riche and around the corner from Stella Bar.
Om
Dahab: The two-woman alleyway wonder is located just round
the corner from the main door of After Eight and has become quite famous
amongst locals and savvy ex-pats. They make and serve homemade food every day.
The good news is that the food is fantastic. The bad news is that their
resources and abilities are limited by their little street stand; so you never
know what's going to be served on the day you arrive– or what's worse, what's
going to be left.
Om Dahab is known for several regular dishes, including
some mean molokheya, juicy grilled chicken served with rice, sides of courgettes,
beans and the dish of the kings: mahshi. Everything at Om Dahab is great, but the
item that's mostly likely to get you addicted is the mahshi. Make an order, and
you'll be greeted with a plate of hand-stuffed vine leaves, courgettes and baby
eggplants. A plate of one quarter of a chicken, rice and a veggie costs 14LE
and a plate of mahshi is 8LE.
Fatatri El Tahrir: Are you
craving pizza but refuse to give into generic chains like Pizza Hut and
Dominoes? Good for you! The greatest Downtown fiteer and pizza alternative is nothing less that
Fatatri El Tahrir.
Fatatri El Tahrir has various kinds of savoury and
sweet fiteers, which is a thinner Egyptian-style pizza made of filo pastry. Savoury
fiteers include veggies, meat or deluxe pizza with both. Sweeter versions of
fiteer include sugar, honey and dried fruit.
The pizza is a fluffy and delicious alternative for
those with a larger appetite. Mozzarella cheese and traditional Egyptian rumi
cheese are also available. Fatatri's convenient location in Tahrir Square and
the fact that they stay open all night make it a great late night option too! A
fiteer costs between 7LE and 10LE. Pizza is slightly more expensive, but comes
in varying sizes starting at 12LE. If you're in Tahrir Square , walk down the street with
KFC on the corner. Fatatri El Tahrir will be on the right
side of the street when walking away from Tahrir. Make sure to look carefully; because the signage is not very noticeable.