Cairo 360 Guide to Puppy Shopping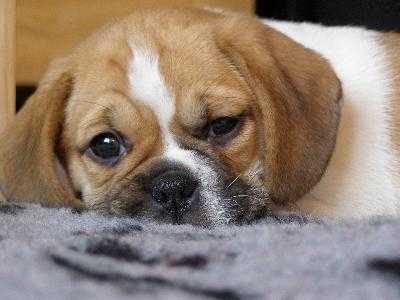 written by
Jennifer Brooks
Over the last few years, it seems
that puppies have popped up everywhere in the Capital. It looks like canines
are truly the new toy in town, and hence attached to the wrists of more and
more hip Cairenes. Be it a fluffy and oh-so-adorable golden retriever or a
gruff little pit-bull pup, they have apparently taken over the sidewalks.
As with most worthy endeavours, social
networking and word of mouth is honestly the best way to get good, well priced merchandise–
and dogs have proven to be no exception.
To begin with, make sure all your
word-of-mouth– i.e. Facebook– bases are covered by joining the following
groups: Vom
Deutschland- Kingdom of Dogs, Dog
Market in Egypt, Dogs
for Sell, as well as the similarly titled Dogs
for Sale, Proper
Pitbull Breeding in Egy, American
Staffordshire Terrier Egypt and Great
Danes in Egypt.
Pet-store pups are often a little sickly and might need some
cheering up from their caged sojourn– but if you'd like to see what puppies are
on offer; Maadi, Zamalek and areas of Heliopolis have many pet stores to choose
from.
Maadi leads as the pet hot spot: visit Road 233 for Cuddles Pet Shop
(26 Rd. 233, New Maadi; 25165280; 0122695637), Pet House (12 Road 233;
25162705) or Advance Care Vet Clinic for some canine health consultation (Rd
199, 6G, 2754426702). Heliopolis pet
stores include Top Animals (4 El Maaly Street, Heliopolis; 0105841423;
0144028484). A few enterprises such as Tharwat Birds Fair (21 Abdel Khaleq
Tharwat St; 23932204) can also be found Downtown by the old AUC campus, but
these are not the cleanest of animals; so beware and always check that they've
had their shots and certificates before you purchase.
As most canine enthusiasts will
attest, those in the puppy market
must be careful to pick the right pup for your lifestyle and character. Here's a personality breakdown for you
dog-owner hopefuls:
For the He-Man: Pit
bulls, Rottweilers and such toughies are fun
and friendly rascals as puppies, but without proper training and exercise
they can be become dangerous and out of control. Be sure to consider how much
time you'll be able to devote to these guys when the clumsy ball of fur has
turned into a guard-dog ball of fury. These are popular guard dogs; especially
for those who reside in quiet Cairo outskirt neighbourhoods.
For the Softie: Sometimes labelled a cliché, golden retrievers and labs
are truly the friendliest 'people dogs'. They deal well with children, respond
well to training and make lovely,
albeit sometimes slobbery, pets. A classic and friendly breed, we've been
spotting more and more of these on the arms of urbanites.
For the Hyperactive: Dalmatians were once the rage, perhaps thanks to the
ubiquitous Disney cartoon-turned-film from our childhoods. Rumour has it they
are not ideal pets; but try your luck if your 'man's best friend' has to come
with polka dots. These large lean beasts need plenty of room to run and jump,
and so work best with large lawns, unless you are a very committed dog walker.
For Those Who Just Have to be Different: If you've always wanted something like a lion, there
is always the chow chow. This is a coppery red dog, medium sized with lion like
faces, full tails and bluish tongues, certainly an exotic hound. Importing one
here may be difficult, but they reportedly make excellent and obedient
companions. Note that the summer heat is a bit much for these very fluffy pups,
so make sure they have a place well equipped with fans and A/C.
For Your
Gucci Dog-Carrier: Little dogs are often favourites for city
dwellers– best suited for ladies wishing to imitate the Paris-Chihuahua
accessory– so consider fluff-ball poodles, pugs or some cross-breed cutie.
Puggles (pug-beagle hybrids) are hard to find in Egypt , but they come highly
recommended for an adorable little companion.
Prices for puppies vary hugely,
with most purebreds starting at around 1000LE. It's best to seek professional
advice for training and upkeep from the vets and experts listed above, so make
sure to take the times to try these once you have your pup in residence. After
all the hard work is done, you and your new best friend can hit the park, and
let the adventures begin.