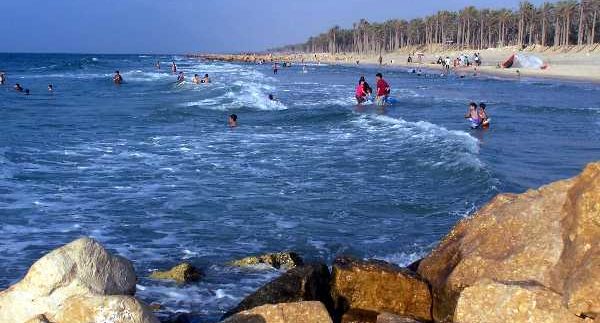 Perched on the Mediterranean in Egypt's Northern Sinai, Al-Arish is a pleasant break for Cairenes who flock here for a little quietness and warmth. The summer months draw both Egyptians and foreigners to the beaches to take advantage of the relaxed atmosphere. For the rest of the year Al-Arish is an unpretentious oasis and great escape from Cairo's bustling streets, where visitors can relax as the ocean gently laps at palm-fringed beaches.


Al-Arish is all about nature and letting your senses go, a place where you can lie on the sandy white beach and get lost in a favourite book. Take a wander through the Zerenike Protectorate National Park and watch Spoonbills sift through the water looking for a meal while you enjoy a small corner of Egypt that hasn't yet been spoiled by tourist madness.


The main town is set away from the beach where there are some good restaurants, ATMs and a few affordable hotels. Buses from Cairo will drop you along Fuad Zikry road that runs adjacent to the beach. To make it into town a 5LE taxi ride or short hike will be needed to get to the main street Tahrir.


On my first night I opted for a super budget hostel and was surprised to find the price of an en-suite so reasonable. Entering the reception area of the Palestinian Hotel, I was promptly checked in and ready to call my new room home for a few days. The absence of hot water and the hard bed didn't deter me; I was determined to enjoy my escape to the simple life.


For those bohemian at heart, you might enjoy lying on the soft white beach with a few good books and some sunscreen, occasionally slipping into the steely blue waters for a cool swim. I highly recommend you watch the sun set to the west and then count the stars as they appear in the cloudless sky. Feel the tension and stress of Cairo life peel off – it might be just what the doctor ordered.


Thursdays in Al-Arish has a Bedouin souq off Tahrir Street, where the characters selling their silver and shoes are sometimes just as interesting as the wares themselves.


I decided to make the trip to Rafah, the town bordering the Gaza Strip. The bus station and service taxi area is a short hike by foot to the east of the town, but a shared mini-bus to Rafah costs an amazingly cheap 2LE. My fellow passengers and I crowded on board and we were on our way. Flies buzzed and settled as the bus stopped to drop people off and pick new passengers up. The driver turned the radio dial from station to station and for a brief moment I heard a voice speaking Hebrew. I was reminded of how close to Israel we were.


Rafah has nothing to really entice a tourist apart from its proximity to Gaza. I walked down one street and saw at the end a huge wall. As I paid for my Pepsi I asked the young man serving me the name of the town over the border. He told me over the wall was the Palestinian town Khan Yunis. Talking to another group of men gathered outside of a shop I was shown cell phone footage of the tunnels used by smugglers to supply Gaza with goods.


Back in Al-Arish I sat in the Dahab restaurant and ordered fish, freshly caught from the ocean metres away. My Rafah adventure had made me pensive, and I wondered about a passenger from the mini bus earlier that day, an older woman dressed in black carrying a large heavy bag. I hoped when she was dropped off on the lonely stretch of highway someone came to meet her and to help her with her bag as she walked home.


Travel Tip: It's relatively easy to get to Al-Arish from Cairo. I caught a night bus from Cairo's Downtown Gate Way bus station. Note that foreigners will pay a higher price for their tickets than their Egyptian counterparts, about 30LE. The bus will drop you on the outskirts of Al-Arish and from there you can either walk to the centre of town or catch a taxi, which will take you for about 10LE or less.