Cairo Guide to Cruising the Nile in Style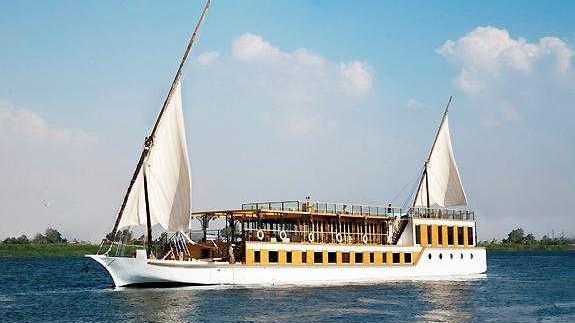 The mighty
river Nile: bread basket of the Pharaohs, delta
of Alexander the Great, inspiration for Agatha Christie's Murder on the Nile, and even James Bond paid it a visit in The Spy Who Loved Me. People have been sailing its waters for
thousands of years, and Nile cruising is a very
popular form of tourism. Many of Egypt's ancient monuments are dotted along the Nile's shores, and it's one of the best ways to see the
country.
Whether you
choose to fly there or take the train, whether you are on a
budget or have money to spare; you can tailor your holiday to whatever suits
you. Most trips start and end in either Aswan or Luxor, though moving with the current is most
popular, and you can see all the major sites in just four days. If you'd like to spend more time taking in
the slowly lapping river, accompanying feluccas, countryside pastures and
amazing sunsets, there are trips that will take you between the two cities and
back to where you began.
Presidential Nile Cruises (or PNC) is one
of the better known five-star cruise lines, offering four- to eight-day voyages
in clean, modern and cosy deluxe suites or on a budget. Prices start at around 850LE
per night in a double room for Egyptians, 970LE for foreigners, without the
cost of transportation to the cruises' starting points. The four-day itinerary includes Aswan, the
High Dam, Philae temple, Kom Ombo temple, Edfu (temple of Horus), Luxor, Valley
of the Kings, Hatshepsut's temple and the Colossi of Memnon. All entrances are included, as are on-board meals.
Take note that Karnak
and Luxor
temples are not included on this itinerary, though you will have time to explore
them on your own. If you'd like more time on the river, their eight-day
itinerary does the same trip and then back, including Karnak and Luxor temples,
and adding a felucca ride around/to Elephantine Island, as well as the Dendera
temple at Qena.
You can book directly through the cruise line, or, if you'd
like your whole package arranged, travel agencies like Lovely Bazaar in Zamalek
are used to planning trips for AUC students. The agency can get you a package
including train tickets for around 1600LE, depending on the season. Call Ibrahim at 0118612219 for more
information.
There are also a plethora
of travel agencies Downtown at Tahrir that will offer you the same rates with
flights instead of train tickets, but it's tricky to find a reputable one so shop
around for the best deal, and the one that makes you feel most comfortable. Destination 31 is a new
website that's launching tours all over Egypt , their founder, Omar, may
also be a good person to ask and hook you up with a sweet cruise deal. And if you're really into roughing it, we
hear Memphis
Tours offer felucca journeys around Aswan. Just remember, though peaceful and beautiful,
they don't include bathroom facilities– don't say we didn't warn you.
Even if the
idea of being stuck with strangers in a confined space isn't for you, floating
down the Nile is a breathtaking experience that
shouldn't be missed– there's nothing like it. Take some friends or go on a group
trip. We decided to join a group tailored to our demographic and met people
there, and had an absolute blast– jaw-dropping vistas and serene afternoons, awe-inspiring
monuments, decent food (we won't lie; the buffets
are hit-and-miss but you can't really complain about an all-inclusive great
deal), and great company made for an unforgettable time.
How to Maximise Your Cruise Experience: take note of all your inclusions and exclusions, know
what you want to see and make sure that you're going to see it, or at least
have the option to. Some cruises include a trip to Abu Simbel
or dinner with the Nubians, for example, or they may offer it as an extra
charge. Most on-board
activities tend to be borderline cheesy, and unaccompanied women may get just a little too much attention; so dine with a friend. As mentioned, though, there are also
different price ranges and not every cruise offers cheesy activities or even a
buffet.
Some more
pampering options may be Abercrombie
& Kent's very luxurious Zein Nile
Chateau– a positively lavish dahabeya for you and eleven of your closest
friends to sail from Aswan to Luxor on, with a marble master suite with Jacuzzi
(which King Fouad II first tried out). You could also try one of the major hotel chains' boats,
like Oberoi,
which offers two luxury cruising options– the Zahra being the
newer and more posh – that rival their gorgeous Mena House Hotel.
Do some
research and you'll find what you're looking for. Whatever you choose; you will definitely enjoy it.