Freedom Camp: Basic Amenities, Great for Exploration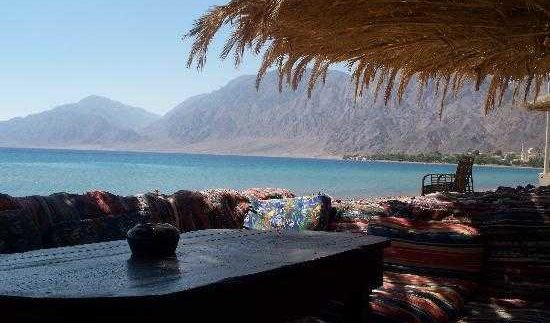 We've found another Nuweiba camp that might not be the best of its kind,
but holds its own with a few unique features and laid back atmosphere. Located on
the Taba-Nuweiba Road
and shortly around the bend from Roxy
Beach, Freedom Camp is an
approximate twenty- minute drive South from Ananda. You can't miss
the large sign from the road displaying a huge image of the statue of liberty.
What we love about Freedom Camp is that very few people know about it. During
peak seasons like the Eid holidays, camps can be so packed that they feel more
like Sharm El Sheikh than Nuweiba. Keeping that in mind, Freedom Camp is great
if you're looking for seclusion and aren't in the mood to put up with booming
speakers and tacky night-time beach parties.
Located directly at the water's edge, the huts are decently sized and
provide just enough room for all of your belongings; still leaving a little
free space to move about. On the other hand, there are no electricity outlets
or bedding provided. Mosquito nets are available upon request, though; and
electricity outlets are open for use in the camp's main hut area.
While there are only six to eight huts available directly at the water's
front, bigger huts are available further back and situated on concrete risers. Accommodation
in a hut costs 50LE a night regardless of how many people share.
The camp's dining area is a true-to-style seating area made of big
pillows and finished off with dim lighting. With only two staff members on site
at this reviewer's time of visit, expect to wait a while for your food; but
then again, you're in Nuweiba. Does time really matter anyway?
Few amenities in the kitchen provide few options for meals but include
the basic choices such as tehina, tuna salad and various pizzas. A breakfast
plate (25LE) includes foul, cheese and tomatoes, as well as two eggs, bread and
jam. While smaller plates range between 15LE to 30LE, expect to pay 50LE for a
meat or chicken platter. A little disappointing; the meat seemed to be of the
frozen variety straight from the box. For 60LE, fresh fish is available as well;
but needs to be ordered a few hours ahead of time. Flavoured with lemon and
delicately seasoned, the fish was a little too bony for our liking.
We aren't sure why; but pancakes in Nuweiba are always a must. For
approximately 20LE, a pancake comes scrumptiously sweet and covered in honey,
powdered sugar and apples as well as raisins. The kitchen is also open for
personal use; so you can bring your own groceries. This might be a good idea; the
camp's food generally seemed to lack quality and was overpriced.
Separated between men and women, the bathrooms are fair and usually kept
clean; though no soap or toilet paper was present throughout this reviewer's
stay.
The best possible thing about this camp is its close location to other camps
around. Taking a morning run to another spot provides a great change of pace
when you're tired of the massive amount of rocks along the seashore that you
have to get through to actually reach the soft, sandy sea floor. No-frills and
easy to find, the camp is great when you're looking for a place to rest your
head and take in all that the sea and mountains have to offer. Like most of the
camps around, few rules apply.
For more information and directions, call the camp's manager on 016 0751 49.