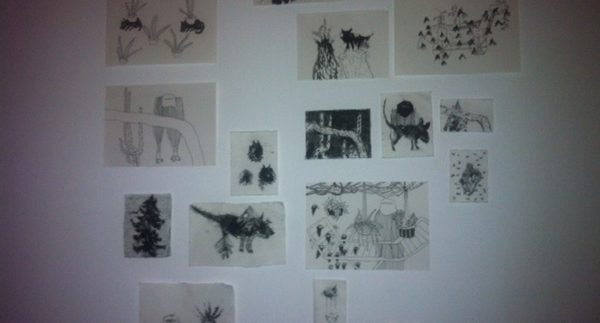 On one of Downtown's fairly chaotic streets and up a dusty alleyway, we eventually found CIC's headquarters in a dilapidated but beautiful old building. After a slightly hair-raising journey in the antique lift to the fourth floor, we arrived at the PhotoCairo 5 exhibition.
The work exhibited at CIC is just one part of what is essentially one flowing, holistic exhibition that also fills the spaces of Downtown neighbours, Townhouse Gallery and 10 Mahmoud Bassiouny. From reading about the exhibition, we understood that the work explores the ways in which reality is distorted and abstracted based on inner experiences. It both examines and provokes responses from the audience which can alter the reality of a situation. For example, people's adverse reactions to an intentionally innocent event can result in a different picture being painted, therefore changing the initial reality.
As we entered, we noticed six framed pencil portraits of a man hanging on the wall. On closer inspection, it was apparent that his face was deformed, particularly around the nasal area. The artist, Hanaa Safwat, clarified in the brief blurb that these were drawings of her father whilst he was suffering an illness which required him to have numerous facial surgeries.
Though the explanation managed to curb our curiosity a little, we were left to our own devices as to the meaning behind these drawings. We could only think that, by documenting the physical changing of her father's face, the time scale shows the journey to existing reality
–
or perhaps there was no deeper meaning at all. The lack of information and being called 'Untitled' leaves this collection totally open to interpretation.
In the second room there is Iman Issa's 'Illustrations for Future Narratives', which has five projectors, each with their own slides. The first projection was of a moving pendulum, coupled with the sound of a ticking clock. This then changed to a contemporary light fixture with lots of bulbs, flickering to the sound of voices from a crowd.
The second projector had images of blue, cloudy skies while the third, a wooden, abstractly shaped ornament. The fourth projector gave a slide show of snapshots in and around Cairo, some iconic
–
such as war memorials and embassies
–
and some not.
Last but not least, a woman's head does a 360 degree turn to look at the audience while smiling in slow motion. We weren't entirely sure what we were meant to be associating these images with, however. There is no semblance to a narrative, be it a background or history that gives it a starting point for perceptions.
Whilst standing in this room, we could hear a loud, constant sound of ticking, or dripping, which led us to peer behind a canvas curtain and venture into the next section
–
Mahmoud Tarek's representation of 'Boredom'. The sound was coming from about 20 small speakers, wired up to the ceiling, and surrounding the best part of three walls. Underneath was an empty fish tank filled with water. Abstract indeed!
The next room was Nora Seif's collection of mixed media, 'Boody'. This room fashioned a collection of drawings stuck to the wall, a large, tall wooden frame in the middle of the room and cute little figurines
–
as seen in the drawings
–
dotted around the place.
Both Mahmoud Tarek and Nora Seif are pupils of the CIC's mentoring scheme for emerging young artists. We could appreciate the conceptual use of mixed media, and the artistic talent, but it's always useful to have an explanation of the thought processes behind the work.
In the last room, there was a screening of Bahari (2011); a short film directed by Ahmed El Ghoneimy which is based on real events. The film follows two fairground workers as they interrogate a man they suspect to be a paedophile after he is seen filming children. The accused claims he was innocently filming as he wanted to create art work that was 'interesting' and 'different'.
PhotoCairo5 is an exhibition of multiple techniques, mainly mixed media. With the lack of descriptions and information, the motivations for each piece might be unclear to visitors who lack the necessary artistic understanding, or imagination to fully appreciate such an abstract exhibition. To truly understand such a complex project, visiting Townhouse Gallery and 10 Mahmoud Bassiouny is nothing short of essential in appreciating PhotoCairo 5.