Picasso Gallery: Samir Fouad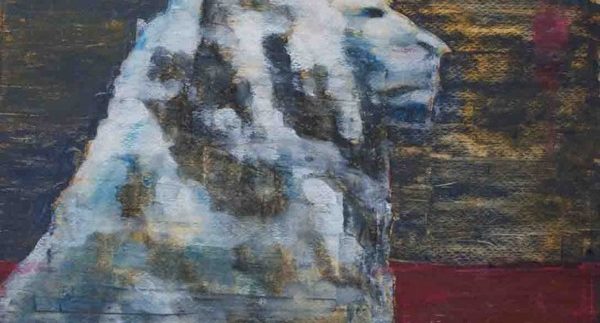 Samir
Fouad's latest exhibition 'From Homeland to Heaven' opened recently at Picasso
Gallery in Zamalek to a full crowd, intrigued by the fusion of his paintings
with the works of Egyptian poet Amin Haddad.
The
exhibition derives its title from the name of one of Haddad's poems. The moment you step into the gallery, your
eyes will swiftly notice the red, white and black of the Egyptian flag. You
will also notice verses of Haddad's poems hanging next to Fouad's paintings.
Dedicated
by the poet and the painter to the people of Egypt, 'who always prove that
myths are real,' the poems and paintings pay homage to the January 25th
revolution and its heroes. Haddad's poems, which have been sung by Eskenderella
Band at protests, are printed to look like graffiti stencils on the wall next
to Fouad's paintings. It's really hard to determine if the paintings inspire
the poems or vice versa; both reveal extraordinary talent in simplicity.
Most
of the paintings in the exhibition are portraits. Fouad's blurred brush strokes
are similar to those used in his last exhibition 'Flesh', and they add a dreamlike,
nostalgic element to the paintings. While 'Flesh' was brutal and shocking in
Fouad's portrayal of raw flesh and human pain, 'From Homeland to Heaven' is
softer, calmer in colour and texture, but at the same time there is pain and
pride in the faces portrayed.
The
portraits are simple yet beautiful. Despite the blurred brushstrokes to the
faces, the eyes portray a complex of emotions that will leave you transfixed by
the painting for quite a while. Some of the paintings are collages, one of
which features the face of Khaled Said in the centre.
In other paintings, Fouad echoes elements and
symbols of the revolution, such as the statue of Talaat Harb, the lion at Qasr
El Nile Bridge and the graffiti of Ahmed Basiouny's face; one of the hundreds
of martyrs. One of the larger paintings is effortlessly exceptional as it captures
pigeons in flight.
Opening two
weeks before January 25th, the exhibition could be a bit emotional as it brings
back memories of the last year. However, there is determination, strength and
celebration in the exhibition, which comes from the fusion of literature with art.
The poems complement the paintings in their creation of visual images, and the
paintings form a fluid continuation of energy throughout.