Safar Khan Art Gallery: 'Homage to Women' by Nazli Madkour
Mon - Sat, 10 am - 2 pm & 5 - 9 pm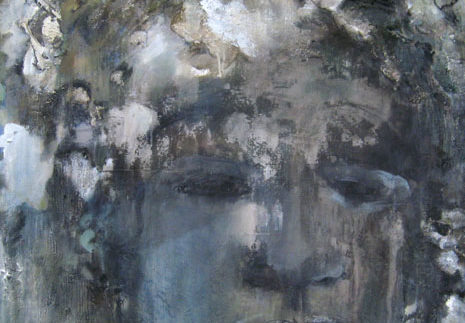 Nazli Madkour has been exhibiting her work
for over 20 years; originally inspired by nature and landscapes, her approach
came to evolve into addressing more social issues, specifically of women. Her
current exhibition at Safar Khan Art Gallery in Zamalek, titled 'Homage to Women',
is a tribute to Egyptian women's triumphs , as well as their torments.

Entering the small gallery on Brazil Street,
the first thing one tends to do in this situation is find a programme, booklet,
or any leaflet of reference. Unfortunately this time, there was none. Something
we've noticed reoccurring in more than one exhibition is the lack of titles or
captions to the paintings as well – even if it just a list of materials used.
On the lower level, the paintings are
focused on the images of women; specifically their faces. In a mix of sombre
colours, their expressions are pretty blank and almost identical to each other.
The strokes of paint – thick and layered in some areas, giving the work
different reliefs – were pale in colour and somewhat hazy. The larger of these
paintings were nicer because of the quality of work, but ultimately none of
these images did much to move us – essentially what anyone looks for in
visiting an art exhibition.
This was until we caught sight of the piece
hung closest to the window to the left of when you enter – namely number 10.
This woman's face was different; her expression filled with emotion and with
sadness. The thickened brush strokes collect on her head, making them seem like
her hair; her expression is deepened by the rough brushstrokes that trap her in what feel like fine concrete layers.
Upstairs the collection is devoted to
flowers. Similar to her past collections, the pieces are mostly bright. A large
piece that faces you as you ascend the stairs looks very much like a jungle, or
some form of food; it is organic and messy. Smaller, square canvases with
different flowery depictions hang all together and although they look
interesting side by side as a group, they wouldn't fare as well individually.
Tawaret, the ancient Egyptian hippopotamus-headed goddess, was an inspiration for the artist but the only reference to
anything of that sort was the large, personalised hippo at the door of the
gallery.
While Nazli Madkour has found local as well
as international success, and this success is in no way unfounded, we found
little to be enthusiastic about in this exhibition. Handing out programmes and
giving paintings captions goes a long way in engaging an audience, and we wish it had been done in this case.