Safar Khan Art Gallery: 'Sounds' by Sabah Naim
Mon - Sat, 10 am - 2 pm & 5 - 9 pm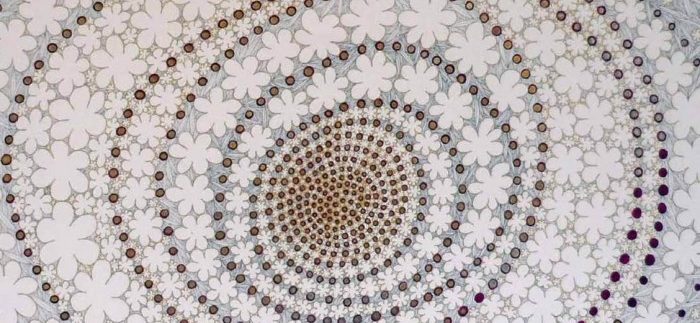 Born in 1967, Sabah Naim refined her craft in the College of Art Education in Cairo, where she earned her bachelor's degree, masters and PhD. While she is considered a regular and prolific contributor, if you will, to fine arts in Egypt, she is also a professor at her college. 'Sounds' marks her first exhibition to be held at Safar Khan Gallery in Zamalek.
Aside from within Egypt, her work has been exhibited in both solo and group exhibitions around the world, in countries including Italy, Holland, Dubai and France. Furthermore, collections of her work are maintained at the Museum of Modern Egyptian Art, the Egyptian Ministry of Culture as well being owned by private collectors around the globe.
Stylistically, her work in 'Sounds' is created primarily using inks and pencils on paper. Notably, there is an extensive repetition of colours, shape and flowers; the main subjects of Naim's pieces. She has achieved a level of intricacy by layering multiple drawings on the page, with astounding attention to detail.
Her use of colour is predominantly subtle, whilst bold tones such as blood red or dark blue are used on occasion; the majority of her palette is laden with calming greys, light blues and beiges.
In combination, the artistic choices that Naim has made exhume a sense of infinity, where all the elements of the pieces blend harmoniously. One could study her pieces for hours and find that there is always more to be seen, and more observations to be made.
Aside from images on canvas, 'Sounds' also includes a number of notebooks that have been decorated in the same style as her larger works.
Some may argue that 'Sounds' is too repetitive and lacking in drama, so to speak; however, there is an overwhelming sense of comfort achieved by her minimalistic, yet intricate pieces, capturing attention by their hypnotic properties.