Denys Johnson-Davies: Homecoming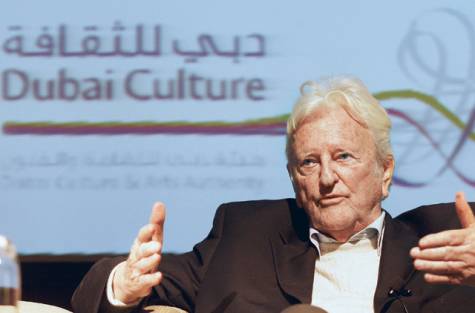 Though it comes as a surprise to many native
Egyptians, there are actually people out there
who are completely and utterly obsessed with Egypt. It is safe to say that Canadian-born Brit Denys Johnson-Davies is one of those people.
The first time he visited Egypt, King Farouk was still on the throne. Having studied Oriental languages at Cambridge University,
Johnson-Davies became a leading Arabic-English translator and came to work with
the likes of Edward Said and he was the first to translate Naguib Mahfouz's work
into English, while he also translated three volumes of the Islamic hadith.
Johnson-Davies celebrated his 90th birthday by launching his latest
book which is a collection of sixty years worth of Egyptian short stories. The book includes work by numerous Egyptian writers, both male and female, including Alifa Rifaat, Naguib Mahfouz, Mohamed Afifi, Yusuf Idris and Khairy
Shalaby.
Most of the stories
are set during different times, ranging from the beginning of the 1940's until today. The majority of the stories take place in and around Cairo and generally
tend to only focus on a few characters since they are usually just two to three
pages long.
The most enjoyable part in reading the various stories is how diverse they are; they offer a lot of background on Egypt and
its familial dynamics and day-to-day life. An interesting detail we noticed is that quite a lot
of the stories either have food or cat-related titles.
Youngsters would be
intrigued by Shehata Al Erian's writing Hashish Steals the Night which revolves around the drugs scene in Cairo's lesser affluent neighbourhoods. Nabil
Gorgy's Cairo is a Small City revolves around an affluent architect who loses
his heart to a Bedouin girl only to find out that he had already
come across her family a long time ago. Alifa Rifaat is strong as usual in her
story Another Evening at the Club, which highlights the trust issues and
power abuse between the staff of a household and their employers.
Though the
translation is perfect, it doesn't hurt having some knowledge on the Egyptian
culture and the Arabic language. Some sentences contain sayings that are translated literally and make little sense in English.
There are hardly any footnotes except for a short glossary at the back of the
book, so having some knowledge about Egypt is definitely important.

For anyone
interested in Egyptian literature over the years, this book comes as an absolute
goldmine of stories.