Salman Rushdie: Joseph Anton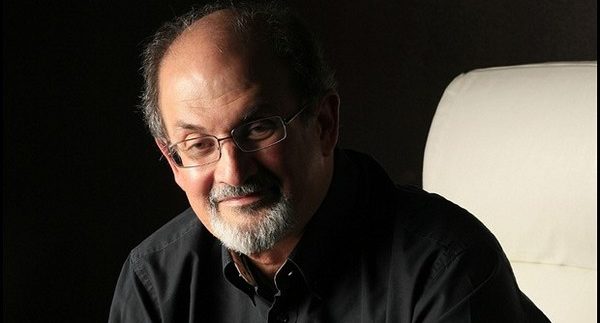 On the 14th of February 1989, Ayatollah Khomeini sent Salman Rushdie a not so funny Valentine: a fatwa. The Iranian supreme leader found Rushdie's portrayal of the Prophet Muhammad in his book The Satanic Verses offensive and thought it fair to declare the author an outlaw, inviting all Muslims to kill him in the honour of Islam.
"You just need to lie low for a couple of days and let the politicians sort it out", says one of the police officers that is sent by the British government to protect Rushdie on the first day of the fatwa. 'A couple of days' eventually turned into ten years of full police protection, being unable to set foot outside his house without meticulous safety procedures and constantly fearing not only for his own life, but also the well-being of his closest relatives.
Joseph Anton was Rushdie's pseudonym when he went into hiding, so it makes for a good title for a memoir detailing that particular part of his life. So one would assume the book details mostly that: the fatwa, its consequences and the efforts undertaken to void it. Unfortunately, there is a lot of toffee-nosed non-information one has to wade through to get to the interesting stuff.
The prologue to the book is written in the first-person, while the rest of the book is in third-person . It comes across as very pretentious to write about himself in the third person; like using the majestic plural. It also creates an unnecessary distance; nothing is more personal then writing one's memoir.
Rushdie spends much of the first chapter debating the validity of the Quran. He was raised to believe that the holy book "was to be regarded as a human artefact, prey to human fallibility and imperfection." He recalls how his father was fascinated by Islam and often discussed the subject with friends. It is strongly implied that this is where his critical take on religion comes from.
The second chapter revolves around the conception, writing and publishing of The Satanic Verses, and how the controversy surrounding the novel initially came about. 'Good story' Rushdie thought, as he researched the tale of the satanic verses for a course he was doing to complete his degree at King's College, Cambridge. Twenty years later he would find out just how 'good' of a story it was.
This partial memoir would have been an excellent opportunity for Rushdie to showcase his thoughts on freedom of speech, to write a solid piece defending the arts from religious fanatics and narrow minds that lack imagination. But instead, Rushdie has written a 656-page tome detailing how great of a guy 'Joseph Anton' is (despite cheating on his wife – whoops!), how fantastic his life has been, notwithstanding the debilitating consequences of the fatwa, and how he constantly mingles with the rich and famous. It's nauseating and grotesque, bordering on megalomania.
The book is littered with numerous unnecessary references to several of his 'beloved', 'amazing' and 'great' friends such as Harold Pinter, Susan Sontag and Martin Amis. A good two pages are wasted detailing a dinner party at the home of then British Prime Minister, Tony Blair. It would be more interesting to know how the fatwa was annulled (spoiler alert: it never actually officially was), not how Rushdie's son Milan spent at least half an hour sitting on Tony Blair's lap and how jolly a time was had by all.
When reflecting om a memoir of an author that has survived a ten year fatwa by one of the most influential Ayatollahs, we want to know the ins and outs of that particular story. It doesn't need window-dressing with uninteresting details of the author's private life, such as the questionable mental state of his former wife and his problems conceiving a child with his third wife.
Anyone who thinks highly of Rushdie better leave this book on the shelves of the bookshop, for fear of instant nausea and general disliking of its author.