Breeze: Poolside Lounge in Katameya
Inside Katameya Heights Golf & Tennis Resort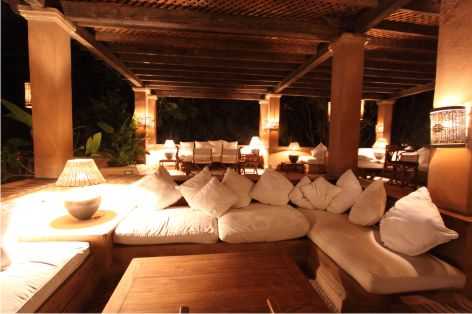 When the summer heat has you yearning to get out of Cairo, Katameya may be a
wise choice for a pseudo-getaway destination. The draw of Breeze Café in Katameya Heights is its atmosphere of pure
relaxation that transports you far, far away from city life. If you are craving
a peaceful outdoor ambiance and a stress-free environment, make your way
to this poolside café, located inside Katameya Heights Golf and Tennis Resort.
Located by the country club pool in a secluded corner, where the glimmering
sapphire water stretches in front of you, Breeze is shaded by greenery and
lattice work awnings. The venue has a vacation spot feel, something hard to
find in the heart of Cairo
without visiting one of the five-star hotels.
There are tables spaced alongside the water where you can enjoy
the greenery, cleaner air and pool, and dare we say it, the 'breeze.'
The café only opens in the evenings at 7PM; while the kitchen's
last order is at 11PM in the winter and 1PM in the summer; which gives us
something of a narrow time slot.
The food is quality but the options are limited, burgers are substantial
and tasty, and the sandwiches are fair. Breeze is most ideal for getting coffee
and dessert, which includes oriental sweets as well as their own creative concoctions.
The chocolate soufflé fondant is a chocolate lover's dream come true: it's not
overly sweet, packed with rich cocoa flavour and drizzled with a tart
raspberry coulis. The caramel nougat melts in your mouth alongside the
homemade ice cream. The cheesecake is somewhat odd; served frozen and missing
any semblance of flavour, it's more of a bland ice cream cake than a
traditional cheesecake; though the crunchy cookie crust is yummy.
The coffee (15LE to 20LE) is fair, but the fresh juice selection
is somewhat limited, with very standard strawberry, orange and lemon options.
Prices are moderate, with main courses costing around 60LE and desserts averaging
at 30LE.
Breeze changes entirely
for Ramadan, offering shisha, Ramadan drinks and every oriental sweet that you
could wish for; making it a great place for sohour or an early evening hangout.