Bubblicious: Breakfast & Bubble Tea in Zamalek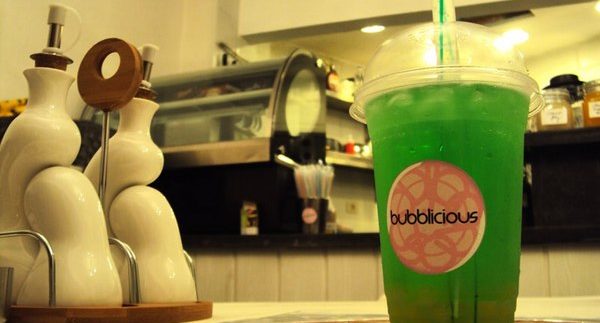 Despite the popular rhetoric revolving around the desire to leave town, get the hell out of here and move to a civilised country where being mugged is considered a crime worth addressing and girls can wear shorts in 35 degree weather, Cairo continues to witness those still willing to invest, and thankfully so. Over in Zamalek, Bubblicious is the latest venture to pique our interest.
Just off Ismail Mohamed Street, down a smaller street across from Five Bells, Bubblicious is best described as quaint. A simple white exterior with old fashioned lamp post fixtures easily stands out from the otherwise shabby looking surroundings. The interior is small, and equally white, with a few round tables and a counter to sit at. A large ordering counter faces the entrance and offers speckles of colour with jars filled with bubble tea flavours.
Boasting the fact that it is the first bubble tea shop in Cairo, naturally, we had to try some. The process comes with simple, laid out steps. First, decide whether it's hot or cold; then whether it will be with black tea or green tea; add a flavour, such as strawberry, green apple or lychee; and finally, pick the chewy balls that ultimately make it 'bubble' tea. A cold green tea with peach flavour and gummy tapioca pearls (19LE) proved to be an enjoyable blend. Not too heavy on the sugar, the drink is light and fresh; perfect for a pick me up on a warm morning.
The breakfast menu is quite the feast. Scrambled eggs, omelettes and eggs Benedict range between 10LE and 24LE, while waffles are available in both sweet and savoury options; the smoked salmon waffle with lemon sauce is the most expensive at 33LE. French toast and pancakes are another way to start your day, however if you're looking for more of a midday snack, pizza and sandwiches are also on the menu.
The Cajun omelette (22LE) comes with spicy sausages, mushrooms, green chilli peppers and onions and is served with a toasted bun. Using all fresh ingredients, the omelette was perfectly cooked and endlessly delicious. The side of cheese (4LE) that included cottage cheese and cheddar cheese was a nice addition to the meal.
The aroma of cinnamon immediately locked us into the classic French toast (12LE). Made with thickly cut toast dipped in a generous amount of egg batter, the portion isn't that big, but the flavours make up for it by being wholesome and hearty, with just the right amount of sweetness.
While both the omelette and the toast were highly gratifying, our personal favourite would have to be the blueberry pancakes (15LE). Stuffed with fresh blueberries, the pancakes were fluffy yet firm, and robust with both sweet and sour flavours melding together in a single bite.
The service is amicable and with an open kitchen you can watch the chef as he prepares your order. The prices are quite reasonable, and with quality food served in a very pleasant environment, we predict Bubblicious will be doing just fine in the future.