Café Vivant: Smoky Shisha Café in Zamalek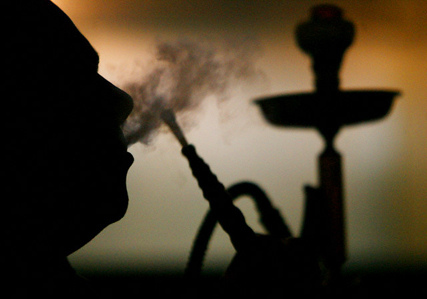 It's easy to forget
the cafés which were around in Zamalek prior to the 'big
bang' of new spots opening up. Café Vivant, one of the older venues of the area,
offers simple food and shisha and is still one of the most popular
hangouts for young Cairenes.
Café Vivant is located
in the quiet street of Mansour Mohamed, across the Serbian Embassy and down the
street from Hardee's; it is the perfect 'go to' place for youngsters. Usually
crowded, the place is filled with smoke with only a few windows for ventilation. The volume of the music and TV being
played make it hard to communicate and you often have to shout to be heard.
Although it seems like
a spacious place, Café Vivant has trouble with seating. The café has a
different approach to seating arrangements where tables and chairs are
scattered around the room, in no particular order. Some tables seat only two
people while others seat up to 10. There are two TV's that are hard to view from
all the parts of the room, but they are very audible. The café is dimly lit
with a small number of neon signs hanging on the walls and one or two pictures
that give an elusive homely feel. There is a bar, which serves no alcohol, an
open kitchen, and karaoke stand that doesn't work.
The service was a little difficult and very slow. The shisha took forever to arrive and once it did,
the coal was only changed only once or twice throughout our stay. They have a
minimum charge of 30 LE, for which one can barely enjoy a shisha and a coke.
There are three waiters working at all times and two shisha waiters, which can
be insufficient on weekends.
Their menu consists of
drinks, main dishes, and desserts. The drinks include juices like lemon and
orange, which didn't taste fresh. Most of the items of the menu were not available,
so once you've made up your mind you might end up having to change it. The
prices of the juice range from 8LE for lemon to 15LE for all the others. There
are also shakes where the more expensive ones like the Borio shake are
18LE-20LE.
Main dishes include
sandwiches, pastas and pizzas ranging from 25LE-40 LE, pastas being the
cheapest, then the pizza and finally the sandwiches. We settled for a pasta
Arrabiata (25LE) and a pizza margarita (30LE). The pasta was enjoyable, but the
pizza came with too much oregano and didn't taste as good. The desserts include
pancakes and brownies with chocolate sauce and ice cream. They have a slight
variety in toppings for desserts but usually have only the vanilla ice cream. We
chose the pancake (14LE) with the addition of chocolate sauce and ice cream
which totalled up to 20LE before tax.
The shishas come in
flavours such as cantaloupe, apple and peach (15 LE); or more expensive ones
like Red Bull, grape and watermelon (25LE). Whether you order a cheaper or more
expensive one, the café will claim that
they add up to 25LE and charge you extra for it.