La Gourmandise: Alluring Coffee Spot in Sheikh Zayed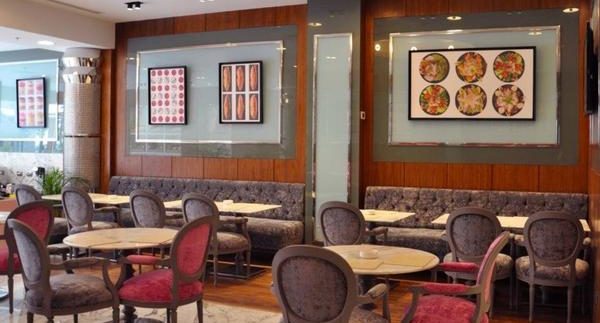 Spreading its legacy beyond city limits, La Gourmandise has recently
made its way over to Sheikh Zayed's Arkan Mall. With its typical white, pink
and grey interior, the overall ambience of the café is feminine, complete with
a small outdoor seating area.
The display of French pastries, macaroons and freshly baked bread is a feast for the eyes and is sure to whet your appetite; a small
ice cream bar to the left is a good place for a cool fix on a hot summer day. A
variety of seating arrangements are available, including long tables with sofas
and armchairs to seat large groups. The outdoor seating area is pleasant but usually
busy in the evenings.
To begin, we ordered the Green Amazon; a lemon and mint slushy (20LE).
The drink was refreshing, with mint syrup and a lemon slice for garnish,
although we did end up with mostly flavourless crushed ice halfway into the
drink.
The La Gourmandise pizza (44LE) comes topped with tomato, smoked turkey,
mushroom, mozzarella and parmesan. Served with no sides or extras, it was a bit
greasy and somewhat bland. The smoked salmon with capers and onion on a baguette
(49LE) came with French fries and sliced cucumbers and carrots. While it looked
promising, the baguette was a bit too crunchy and the filling itself seemed to
lack that mouth watering zing, typical of a good salmon sandwich. It doesn't
quite constitute a decent meal either, even with the French fries and
vegetables.
For dessert, our waiter recommended the hot chocolate cake (32LE) – a speciality that takes
around 20 minutes to prepare. Once again, the presentation was top notch,
with smears of caramel and whipped cream with vanilla ice cream on the side.
Once you dig your spoon in, a creamy hot centre seeps out onto your plate. Not
being much of a sweet tooth, we were pleased to find that the chocolate cake
was not too sweet, and combining the cake, chocolate sauce and ice cream brought
the combination of hot and cold flavours together nicely. Although this was probably the best dish of our meal, it
was still pretty standard as far as chocolate cake goes.
Although the food is average, this is a good place to work if you're
looking for a change, but at the time of our visit, they didn't have Wi-Fi set
up yet.