Pause: Another Zamalek Crêpe Place Opens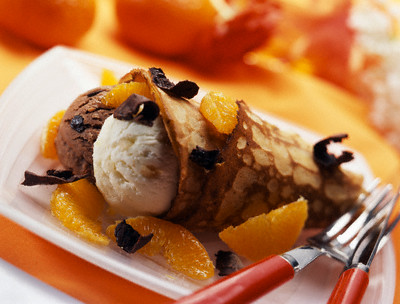 It's a recognized fact that when Cairo
jumps onto a trend, there is no looking back. Sushi, cupcakes and concept
stores have flooded certain neighbourhoods of the capital. The same goes for
waffle and crêpe shops; so we were a little sceptical as to whether or not
there was room in the market for Zamalek's newest addition to the bunch, however,
it seems that Pause has potential.
Located on Ahmed Heshmat
Street, the counter at Pause may look small, but
don't be deceived; some seriously delicious treats are served from behind this
tiny space. Sitting at the singular high-top table in front of the counter to
watch your crêpe being made is useless; they work so quickly and discretely that the food seems to appear out of thin air at your table. Therefore,
we suggest taking a seat upstairs, where you can relax with a little more
space.
Pause's decor is an attempt at funky; clearly some thought was put into
picking out accents and textured wall paper, though the execution was a little
rushed. The space is comfortable, though; and the upstairs seating means that you
aren't cramped into the ground-floor space with a group of waiting patrons.
The turkey crêpe (24LE), with gooey mozzarella and oregano is very
satisfying. Dried herbs are mixed right into the batter and the crêpe is more
delicately made at Pause than at any local competitors, almost achieving the
paper-thin quality that a crêpe should have. Other savoury crêpes include the 'delphia
with cream cheese and tomato, the salami crêpe, with cheese and herbs, as well
as crêpes with various vegetables and cheeses. Savoury crêpes are served with a
small bowl of crunchy mixed pickles and a peculiar side of processed cheese
spread.
The dessert crêpe menu is just as extensive with ingredients such as
honey, chocolate and fresh fruit as well as syrups, nuts and whipped cream. The havana (22LE)
may sound simple with chocolate and bananas, but it is a rich dessert that only
the brave can tackle alone. Drizzled with additional chocolate sauce, the crêpe
is presented nicely and thankfully without the Cheez Wiz.
Waffles are topped with sauces and creams similar to the sweet crêpe
fillers and imported name-brand chocolates can make your waffle extra
indulgent. Coffee at Pause is made by Illy, and we would gladly take a break from our
day again and again for a double espresso (11LE) at this café. Juices, milkshakes
and Italian sodas (15LE) are also available in flavours such as strawberry,
mango and vanilla; all served with a refreshing splash of lime.
Pause still has a few kinks to work out (lack of takeout boxes has them
covering aluminium foil plates with plastic wrap, and the juice was too frozen
to serve at the time of our visit), but they have a leg up over their
competition with speedy service, an uncluttered shop and an understanding of
how thin a crêpe should really be.