Salimos: Maadi Fusion Restaurant
Building # 37 - Street 270

7:00am - 2:00am - Fri & Sat 9:00am - 2:00am -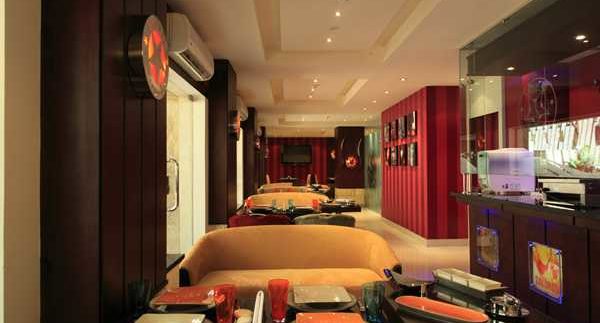 Great
fusion cuisine isn't often easy to come by in Cairo's restaurants. After a stubborn search
for a dining menu with a twist, Salimos seems to fit the bill.
Upon
arrival, the first surprising discovery was how empty the location was, despite
it being a Thursday night. Before any hesitance could be acted upon, a friendly
staff member ushered us in, asking for our seating preferences. Due to the loud
television sets showing a local soccer game, we decided to sit outdoors, only
to be met with a television set for every table. The fans and abundance of
plants helped to keep up the atmosphere, though, and the cosier semi-circle
couches were a comfortable choice.
The
menus were promptly placed in front of us, and they were quite the textbooks:
thick hard covers spanning across meal courses and celebrating a fusion of
Spanish, Moroccan, French, Italian, Lebanese, Greek and Turkish cuisines. The
menu hit a soft spot for bravely boasting fusion items such as chicken and peach
spring rolls with sweet-chilli sauce (26.50LE), or Casablanca Moroccan beef with
dates (64LE), which we quickly ordered. We also settled on a more standard dish,
the Salimos salad (34.50LE), which featured salmon and crushed walnuts in a
honey dressing.
Our
drinks were served immediately, and only fifteen minutes later, all of our
dishes were placed before us and the sampling began.
The
spring rolls were a delicious take on the tired, oil-soggy recipe that most
other restaurants offer, with peaches sweetening the flavour, and a hint of
cinnamon, ginger and coriander for an extra kick. The beef was very tender,
accompanied by a side of plain basmati rice and a small dish of harissa. The
date sauce was highly addictive and worth sopping up the rice with, but ladling
a spoonful of harissa onto the basmati was undeniably a mistake. Too smoky for
its flavour to be appreciated, avoid the harissa, or at least first sample it
on a small portion of rice if you must. The salad's lettuce was surprisingly
crisp; a rarity among Cairene salads of wilted greens. Furthermore, the combination
of smoked salmon, honey and crushed walnut was refreshing.
The
waiters quickly cleared our table, and we asked for dessert, but were
disappointed to hear that the curious desserts listed on the menu were not
available. However, the fridge display included a handful of gateaux options,
such as banana-choco, Mars, sweet potato, and walnut. Settling on a date
gateau, we found it tasty but a bit too sweet. Overall, Salimos is definitely
worth visiting for a relatively cheap, interesting meal, as it averages at 100LE
for a full meal.