Shakespeare Café: New Coffee-House in the Yonder of Nasr City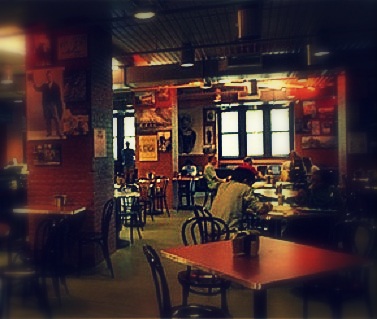 In the busy
shopping street that is Nasr City's Abbas El Akkad, new shops, restaurant and cafés often go unnoticed and
are overshadowed by the street's more established venues.

Shakespeare Café is a new
addition to the street's gamut. The name, along with a logo using the author's
most iconic image happily holding a cup of coffee in hand, is enough to intrigue
a passer buy to go in and take a look.
Though the
décor isn't exactly medieval, the brown and red seating area is evenly
and comfortably populated with seating. Shakespeare Café's menu is divided
drinks and food – which don't differ much from other cafés – as well as an addition of
breakfast items such as croissant (7.75LE) and omelette (13LE) to which you can
add cheddar cheese for an extra 3LE.
Out of all the
salads, burgers, shawerma sandwiches and standard pastas selections, we went
for the chicken filet sandwich (24.75LE). As promised by staff, the sandwich
was flavoursome; the chicken was perfectly grilled and piled with mushrooms,
lettuce and mozzarella into fresh, sesame bread.
The café's
menu might have been too Italian for its theme but you can never go wrong with
a pizza. Though very obviously recently defrosted, the veggie pizza (28LE)
was rich in ingredients and had a soft and fresh crust; although not fresh-tasting, the peppers, olives and
mozzarella made up it in flavour.

The menu is
also laden with Shakespeare-related names, including the King Lear cocktail
(21.75LE) which consists of kiwi, mango and orange. Replacing mango with
strawberry will transform it into a Hamlet cocktail. You can also choose to
make your own cocktail with a selection of ingredients in the 'As You Like It'
section (21.75LE). These are of course besides regular coffee drinks and
smoothies.
Taking advantage
of their wide indoor space that communes smokers and non-smoker comfortably, the café offers shisha
for 22LE as well.
Overall, Shakespeare
Café offers basic, decent food and a wide array of drinks options. The
atmosphere of the place lulls you into a long stay and it's not often crowded.
That being said, the café's name raises expectations towards a unique venue that could have distinguished it from other coffee shops.