Sufi: New Café & Bookshop in Zamalek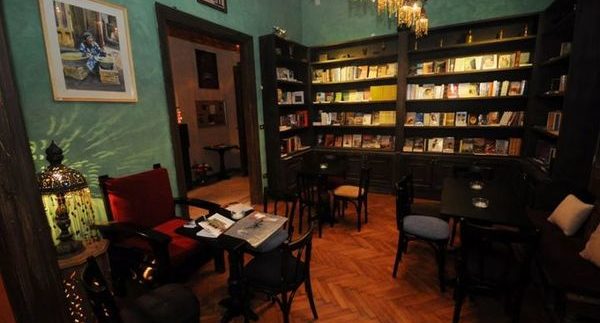 Over the
last century, Downtown Cairo has been known for its numerous literary hotspots,
where writers, artists and intellectuals would gather in one of the many cafés and discuss art, literature,
politics and life. The January 25th revolution has reignited this spirit, and venues all over the city are trying to recreate that same Downtown
atmosphere, with Zamalek leading the way.
Sufi is located just across the street from L'Aubergine and in the same building as Loft
Gallery. Sufi is not just a bookshop, however; it's also a very chilled café. The venue is located in an old apartment
and therefore made up from various rooms. You enter in the hallway where the
cashier and bar are. On your left is the green Arabic room which has
the most gorgeous copper and glass Arabesque lamp we have ever seen. Like, all of the lamps and displayed artwork, it's for sale.In this room you can find all Arabic
books and there are a few tables with comfy seats.

The next room is the English
room with orange walls. Here you can find English literature and English study
and history books. Prices are identical to what you can find at bookshops such
as Diwan, and so is the range of books. Smoking is prohibited in both the
Arabic and the English rooms, but there is a small non-smoking room on the left.
In the back are two more rooms. One has more books and the other one carries
notebooks and gifts. In the hallway is a book shelf filled with books to read
whereas all the other books have to be purchased.
Sufi has
a small menu consisting of sandwiches, salads and pasta dishes. We sipped on a
latte (15LE) with Irish crème flavour (4LE) and a strawberry juice (12LE) while
devouring a Russian salad (20LE). The latte was strong and flavourful and
looking back, there was no need to add any flavours. The coffee itself was
already tasty enough, although it resembled a cappuccino more than a latte. The
strawberry juice came from a bottle but tasted fresh however. Our salad sounded
good on paper but was a bit disappointing in the flesh. The potato, egg,
mayonnaise and pea combination sounded exciting but it lacked flavour. Even
though it was seasoned with an insane amount of pepper there was still hardly
any taste to it.
We love the concept of Sufi, but couldn't overlook the mediocre food, and the fact the collection of books can be found elsewhere. Had the bookshop offered rarer titles, or books at lower prices, we would have been mightily impressed. Nevertheless, if you are looking for a nice place to stop
off and have a good conversation over a cup of coffee while strolling through Zamalek
then Sufi is ideal.