Thomas Patisserie: Sweets, Cakes & Desserts in New Cairo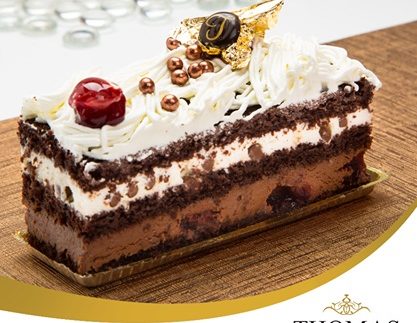 Having already made its name in the Egyptian dessert market, Thomas Patisserie is by no means, an unfamiliar brand. Thomas' latest branch in New Cairo, however, is still new and pristine and so, being the adamant sweet-tooths we are, we decided to hit it up for a much-needed sugar fix.
Located in a rather odd part of New Cairo, in the Medical Park, Thomas is relatively spacious yet lacks any seating areas; it's the type of patisserie you go to when you want to take your desserts to-go.
The interior appearance of the venue unabashedly leans to the sleek, dark, black spectrum of decor; an obvious attempt at obtaining a chic and posh design. The whole vibe, however, is a little too much and ends up looking a little tacky rather than the elegant.
The place offers a variety of desserts, divided into the two obvious types; Western and Middle- Eastern/ Oriental treats. Taking a glance at all the desserts offered at the time of our visit, we couldn't help but notice that the gateaux and cakes looked much better-stocked and more alluring than their Oriental counterparts. The Oriental desserts on display, however, included lots of the classics like Basbousa (40LE-60LE/ Kilo), Konafa, and Baklava amongst others. You can also order a selection of the three for 130LE/Kilo.
We migrated to the better lit display of all the gateaux, tarts and cakes one could ever think of. From round, English-type, breakfast-friendly cakes (70LE) to full-on, occasion-orientated cakes (120LE-150 LE for a small one and 170LE-210LE for a large one), the cakes came in all sizes with all kinds of flavours and toppings. Moreover, the infamous French delicacies, Macaroons, were also available in a multitude of flavours (175LE/ kilo). Gateaux, both normal-sized (9LE-16LE/piece) and soiree-sized (100LE/kilo), were also available and we opted for a few pieces to indulge in.
Other savoury baked goods can also be found at Thomas, including pates, croissants and mini pizzas (5.50LE-8LE/ piece). Gourmet chocolates (175LE/ Kilo) are also offered and would make lovely gifts for any occasion.
Our gateaux were well-wrapped in a box and were pleasing to the eye. The classic, sugar-topped, millefeuille was light, yet decadent, with the pastry tasting exceptionally fresh. The mango tarte was also quite delightful and light. The chocolate gateaux, however, despite tasting alright seemed to lack a certain oomph; chocolate desserts should never taste average.
All in all, Thomas offers quite a lovely selection of desserts for all kinds of occasions. Despite its wishy-washy design and quite peculiar location, it still did have adequate service, with super friendly staff. The desserts themselves were not ground-breaking in the taste department, but were still of notable quality.