Christmas in Cairo: Easy Festive Cocktail Recipes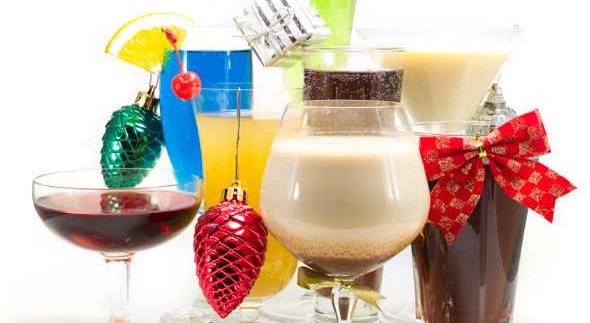 Christmas
is almost here, and the ways to celebrate in Cairo are endless! Whether you go all out and
obsess over a freshly cut tree and cinnamon sticks or not, chances are at some
point or another; entertaining guests will be on your to-do list.
Cocktails
are a great, simple way to not only add a little decadence to any festive
occasion but also to provide some warmth and comfort on those cold winter nights.
Below is a list of a few of our favourite hot and cold non-alcoholic cocktails for Christmas.
With the help of some local ingredients and creativity, these easy-to-make
drinks might just have your guests asking for the recipe. Enjoy!
Cold Drinks:
Mint Julep: Common among the Southern region of the United States,
this typical summertime refresher also works surprisingly well during the
winter months.
In a
saucepan, combine 1 cup of sugar, roughly 1/4 cup of chopped mint leaves, and 1
cup of water. Stir over low heat until the sugar has dissolved, bring to a boil
and simmer for around 5 minutes. Pour into a jug and keep in the refrigerator
until chilled. Once cold, strain into a larger jug and add 750ml of soda water,
and ice cubes. Separate into glasses and
add mint sprigs for a garnish; expect 5 to 6 servings.
Moonlight Cocktail: This sweet treat is a bit heavier
than the rest but makes a fun cocktail that's nearing a sweet, tart dessert.
Take 3 cups
of chilled, unsweetened pineapple juice, 1 chopped banana, and 3 tablespoons of
strawberry ice cream; blend for 30 seconds or until creamy. Depending on
preference, more or fewer bananas can be added. Top with red cocktail cherries
and serve immediately. Expect 4 small servings.
Hot Drinks:
Buttered Apple Cider: Apple cider is one of those
traditional Christmas drinks that just have to be made. While modifications are
in the hundreds, we prefer to stick to the basics.
In a slow
cooker or large pot over low heat, add one 16-ounce bottle of apple cider and ½
cup of pure maple syrup. Leave for approximately 20 minutes or until piping
hot. In a smaller bowl, combine 1/2 cup of softened butter, and 1/2 teaspoon of
both ground nutmeg and allspice. After pouring into mugs, add a dollop of
spiced butter and cinnamon to top it off. This recipe makes 8 servings.
Spiced Fruit Punch: While this drink also includes a
taste of apple, the spiced fruity mixture is a unique take on a warm Christmas drink.
Take 570ml
of both orange and apple juice, 1/2 teaspoon of ground ginger, and 1/2 teaspoon of
mixed spice; throw all into a saucepan and bring the mixture to a boil. Simmer
over low heat for approximately 5 minutes. After pouring the warm punch into
glasses, add slices of orange and apple to add some freshness and make it
pretty. Cinnamon also makes a great addition to the drink. This recipe makes
around 1.5 litres.