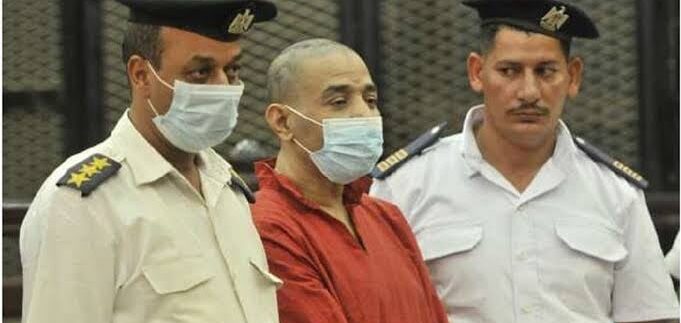 Image via Sada Al Balad
With Ahmed Fahmy's newest show just released, Safah El Giza is all everyone seems to be talking about. But behind the acting, we wanted to investigate what made this real-life case catch the public opinion's eye so quickly. Unlike many true crime documentaries, the real story tackled here is very recent, and its protagonist still awaits punishment. Between fraud, robbery, identity theft, and cold-blooded murders, the Butcher of Giza's true story is far from simple.
The "Butcher of Giza" is only the most recent of many names the serial killer has carried. He was born in Boulaq, Cairo, under the name of Gaddafi Faraj, and graduated with a degree in law before continuing in commerce by opening a bookstore.
Via Youm7
His crimes started well before his first murder. When his best friend Reda entrusted him with large sums of money, thinking they went into investment, Faraj was stealing the money and using it for his own gain. Upon Reda's return to Egypt in 2015 and his demand for clarification, Faraj invited him over and poisoned his food. He later buried his dead body in a hole he dug in his house. He then sent a message to Reda's wife from the victim's phone, saying her husband got arrested without further information.
If Gaddafi did not care about old friendships, he valued his marriage with his wife Fatma even less, which ended in another murder after she refused to give him back the money she had earlier taken from him. Again, the victim's family had no news of their disappeared daughter and son-in-law.
Even his employee Nadine, whose sister he was dating, was not safe from Faraj's violence. When Nadine told Gaddafi to stay away from her sister and threatened to expose his criminal activities, he lured her to his house and murdered her. Ready with an elaborate story to hide his crimes, he convinced the girl's family that she had run away with a producer, leading the family to keep silent about their daughter's disappearance.
Safah El Giza then stole the identity of his victim, Reda, and sold all his properties to start anew in Alexandria. However, his clean slate did not stay this way for long as he continued his fraudulent activity in Alexandria. 2017 led him to his 4th and last victim, Yasmine, who worked with him in an electrical appliances store. When Yasmine discovered he had illegally acquired and sold one of her apartments and threatened to expose his crimes, he strangled her to death and buried her in his warehouse.
Faraj was finally arrested after one of his thefts while he was still using Reda's identity. The deceased's family quickly realised that the detained man was an imposter who had murdered their son. Faraj then confessed to his crimes and, after being subjected to a psychiatric evaluation, was found guilty of four murders as well as fraud and forgery. Today, the victims' families are waiting for justice to be served and for the Butcher of Giza to face his punishment.