Al Kobar: Swimming With the Big Sharks
Amr Saad

Khaled El Sawy

...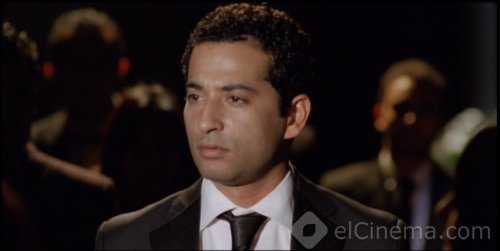 Al Kobar (Arabic for 'The
Big Ones') comes bearing lots of promise. The stylish poster has all the leads
looking dead serious about this season's latest release, but for all the
potential and screams of unjust suffering, the film barely holds together as an
afterthought. Biting off more than it can chew with a mouthful of ideas, the
film gets lost in its sea of poor
narrative and dry performances.
We're confronted with tragedy
right from the get go; Kamal (Saad) is a prosecutor
who opts out of the legal system after an innocent man, the brother of his
future love interest Heba (Zeina) is
sentenced to death with his help. He can't escape the guilt, even when his best
friend Ali (Abdel Moghny), an honest
cop himself, insists that it wasn't his fault. A sobering lack of humour plagues the world, and first-time
director Mohammed El Adl can't stress the
gravity of the situation enough, so he replaces all traces of smiles with
frowns and hysterical shouting.
Kamal retreats into his home. He's lost faith
in the system, the people and most of all himself; so it seems a little bit
counterintuitive– never mind out of character– when a ticket into the seedy
underbelly of Egypt
gets him all giddy and excited. He gets a lavish office working for an organisation
headed by El Hag (El Sawy), where Kamal gets to do the devil's
bidding.
Kamal is completely at peace with himself in
his new job, and if there is any sign of moral dilemma, it's all on the
surface. In fact, none of the characters in Al
Kobar are capable of internalising their feelings; instead, they pour it all
out. Even El Hag, who is presumably the physical
manifestation of everything wrong in our socio-economic system, gets to share
embarrassing stories from his childhood: his mother slapped him on the face
when he asked her to buy him a horn, and as a result he's now a corrupt
entrepreneur who imports medical equipment that has been exposed to radiation.
El Adl tries his best to
craft a gritty cautionary tale. However, his ambitions far exceed his
abilities. His efforts are not all in vain; absent is the spoon-fed exposition,
and for once we get a film that has a little faith in its audience's
intelligence. The editing is also sharp and does a nice job of trimming the
fat, all of which are redeeming qualities, yet these qualities are not enough
to transform the poor script into gripping events.