Brick Mansions: Paul Walker's Last Full Performance
David Belle

Paul Walker

...

Action & Adventure

Thriller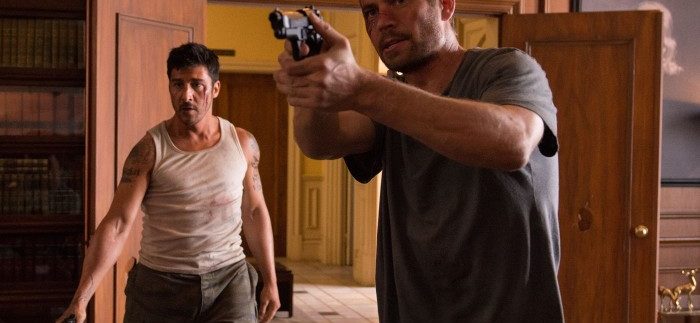 Brick Mansions, an American remake of Luc Besson's super-fun French parkour thriller, District B13, offers the last fully completed performance from the late Paul Walker; the only thing that adds significance nto this otherwise, thinly-scripted film.
Directed by Camille Delamarre, the story is set in 2018 and centred on the happenings behind the forty-foot walls of the cornered-off Detroit ghetto; a.k.a Brick Mansions. The area is ruled by Tremaine (RZA); a malevolent drug and weapons dealer who, with the help of his small group of thugs, rules Brick Mansions.
With no opposition or real threat from the authorities beyond the wall, Tremaine's only troubles come in the form of local freedom fighters, led by Lino Dupree (Belle); a parkour-skilled warrior who has recently stolen Tremaine's a batch of cocaine and is now wanted for his crimes.
Meanwhile, undercover cop, Damien Collier (Walker), is in the midst of accepting a seemingly dangerous task from Detroit's Mayor (Ramsay); gain access to Brick Mansion, team up with Lino and diffuse a neutron bomb that Tremaine has stolen from the government, in order to prevent him from destroying what's left of the infamous Motor City.
One of the intresting things about Brick Mansions is actually the use of parkour; a practice of movement which uses precise body movements, whilst incorporating everyday surroundings, in order to get one from point A to point B. The technique, created by the movie's very own French star, Belle, has been utilised through various films and commercials since the late 80's and it sure does attract the eyes.
In terms of performances, Belle, who starred as the lead in Luc Besson's original version, offers a relatively bland performance; however, it's his rather impressive stunts that end up giving the French actor a bit of leverage over Walker who, although extremely likable, never breaks out of his Fast and Furious character mould.
Uninspired and clumsy, Brick Mansions is difficult to take seriously and, despite having all of the right action staples at its disposal, things seemed to have gone a miss.