Carriers: Mirror Mirror On the wall, Who Is The Sickest Of Us All
Chris Pine

Lou Taylor Pucci

...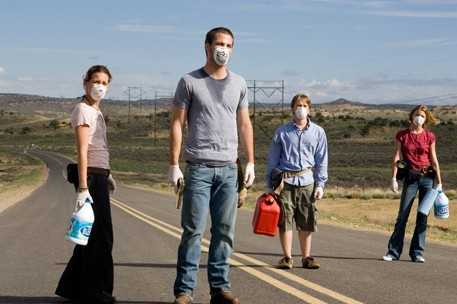 A mysterious
virus hits the world; and the remaining survivors are engaged in a battle of
life and death against the virus and each other. Does this plot sound familiar? Carriers does its best to follow in the footsteps of Outbreak, 28 Days Later and I Am
Legend, making use of the traditional formula of a virus gone wild that
leaves humanity on the verge of extinction.
Written and directed by brothers Alex and David
Pastor, the film focuses on two brothers Brian (Pine) and Danny (Pucci), who lead their two female friends Bobby
(Perabo) and Kate (VanCamp) to an isolated island in the hopes of escaping the
deadly virus. Once there, the group has
to follow a set of survival rules laid out by Brian. Naturally, someone breaks
a rule and chaos erupts, in typical gruesome horror-style.
If you're the type that gets easily queasy, then this
film is definitely not for you. Although it lacks the zombies that have
recently become trendy in the horror genre, there are many scenes that display
the moral ambiguity of the characters and the film itself. Survival itself
depends on abandoning the sick to save the living, a mantra that leaves the
characters dropping like flies throughout the film.
As entertaining and as gruesome as Carriers is, the film does not explain
how the virus affects the human body or how it brought the world to its knees.
We are not provided with answers to any fundamental questions; but we do know
it is contagious and should be feared.
While the performances of the young actors do
not help push the film forward, horror fans will satisfy their adrenalin
craving with some scary moments here and there.