Criminal Activities: You Shouldn't Like this Cliched Crime Thriller, But You Will
Dan Stevens

John Travolta

...

Action & Adventure

Drama

...
While it seemingly draws on the likes Tarantino's Pulp Fiction and True Romance, there's still something alluring and awfully inviting about Jackie Earle Haley's lively and intriguing directorial debut, Criminal Activities.
Like most stories that follow amateur crooks tripping into the path of mobsters, the film is centred on haughty, arrogant young broker, Zach (the wonderfully edgy Michael Pitt), along with old college pals, Noah (Stevens), Bryce (Brown) and Warren (Abbott), and their plans to cook up an investment scheme whilst attending a funeral of an old friend.
Said plan is to invest in a small pharmaceutical company and Noah, who initially proposes the plan, is ready to put down the large sum of money they will need in order to proceed. However, after the deal falls through weeks later, the debt – owed to kale smoothie-drinking mobster, Eddie (Travolta) who lent the money to Noah to begin with – needs to be paid which of course, none of the boys are in any position to do. Instead, Eddie tasks them to kidnap a rival gang member and, as a reward, he will wipe the slate clean.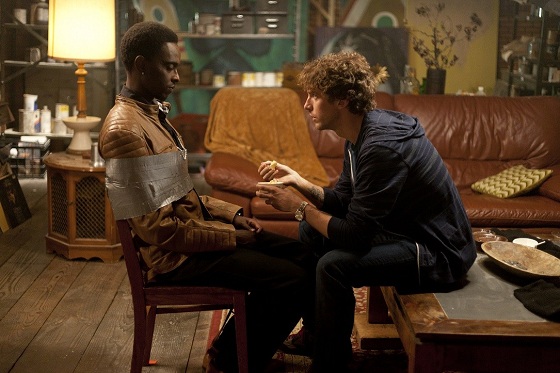 Adapted by Haley to cater to a more modern audience from a script written by late writer and poet, Robert Lowell, the skeleton of the plot offers nothing new and uses a tried-and-tested formula: headstrong protagonists fall foul of a mobster and must carry out an unspeakable act in order to save their own asses.
However, there's a certain confidence and energy on display that keeps things ticking nicely throughout the film, which strangely has more of a 90's feel to it. Although not completely free of predictability and even technical flaws, what keeps the film's head above water is the way in which Haley adds a creative edge with a couple of seemingly random sequences that don't necessarily address the main plot,
Much like his Chili Palmer in G. Gary Gray's comedy crime-caper, Be Cool, John Travolta – sporting a freshly botoxed look and an off-fitting wig – is very much at home here as a chatty, Macbeth-quoting mob-boss whilst, Pitt is absolutely brilliant as the neurotic young broker.
Faulty but sufficiently violent and relatively amusing, Criminal Activity is a satisfying crime thriller which, regardless of its shortcomings and a weird twist ending, will guarantee a contented view.