Despicable Me: Villains and Super-Villains
Jason Segel

Russell Brand

...

Chris Renaud

Pierre Coffin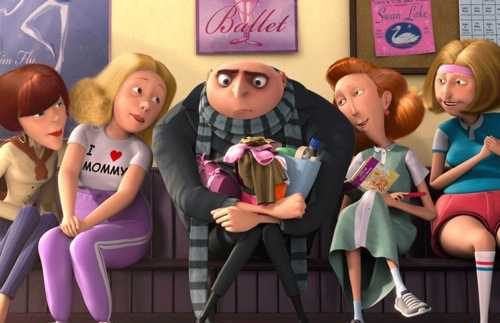 Make no mistake; Despicable Me is no Pixar film. It lacks
the sophistication and the multi-layered, rich storytelling found in Toy Story or Wall-E. If there was ever a case for style over substance, though;
then Despicable Me is certainly it.
The first animated film by the new Illumination Entertainment (founded by the
former head of 20th Century Fox Animation) is hilarious with an abundance of
cuteness.
Steve Carell voices Gru, a
hunched and disgruntled villain with a heavy Russian accent. He indulges in
ruining people's days with his hi-tech gizmos, such as his handy freeze gun and
his huge vehicle.
His reign has gone unchallenged until rival villain Vector (Jason
Segel) ups the ante and steals one of the Giza Pyramids, thus casting a huge
shadow over Gru's devious accomplishments. Now Gru has to reclaim his position
by outdoing Vector and stealing something even more ridiculous, like say, the moon.
The evil bank that used to
finance Gru's old schemas accuses him of growing soft in his old age and refuses
to back his newest escapade, so Gru is left with no other choice than to
steal the moon on his own. Along the way, he meets three adorable little girls
and adopts them so that they can help him break into Vector's mansion. Little
by little, his stone-cold heart starts to melt as he gets closer to the girls.
While Despicable Me doesn't break any new ground with its story; great
attention has been paid to the humour and emotional core of the tale, as well
as to the slick animation. The minions end up stealing every single scene with
their minimal yet highly expressive character design. They're cute to the point
of excess; but their sharply written gags win over viewers instantly.
The 3D is eye-popping and
bright, effectively used to drive the action and push the comedy. The voice
performances are top-notch, led by Carell, who doesn't rely on his natural
comedic persona; but invents a whole new one instead.
Even though Despicable Me is calculated and emotionally manipulative at times –
using little girls is an arguably lazy way to win over hearts– it has
its heart in the right place. Warm and fuzzy like a furry animal and funny with
a dash of wit, Despicable Me is an energising
film and a jolly good time.