Echelon Conspiracy: A Life-Coach in the Form of a Cell-Phone
Edward Burns

Martin Sheen

...

Action & Adventure

Mystery & Suspense

...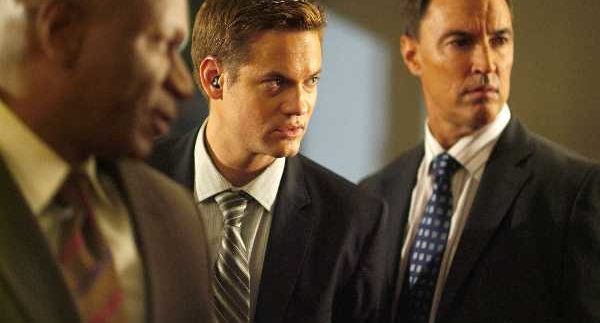 Max
Peterson (West) is a computer genius of sorts. His job is to install very
sophisticated security systems to protect big corporations from being hacked. However,
judging by his fancy suit, perfect tan and lean shape, Max has never seen the
light of a computer screen. Such is the kind of b-movie reality in which Echelon Conspiracy takes place: implausible
but nonetheless fun.
Max
receives a DHL package with no return address that contains a hi-tech cell
phone. The phone turns out to be some sort of advanced magic 8-ball that gives Max
suggestions on how to prolong his lifespan; it also receives texts with
gambling insider information. Max plays along and follows the phone's advice,
thereby making tons of money and drawing unwanted attention to himself. Casino security
staff notice the phone in their monitoring cameras, so they not-so-gently ask
him to leave the vicinity. The FBI shows up to arrest him, and it turns out that
there is more to these text messages that he's receiving than simply cleaning
out blackjack tables.
Max
finds himself in way over his head: The casino's head of security (Burns) is
chasing him. A huge FBI agent (Rhames) drills him for information, and lots of
men in black jumpsuits are shooting at him. Poor Max doesn't know who to trust
or where to hide from all the cameras on the streets.
After
the initial gambling winning streak buzz wears off, Echelon Conspiracy turns into another NSA monitoring-room thriller,
where the head of national security (Sheen) keeps shouting orders and demanding
explanations from his field operatives. You're always one step ahead of them
because we've seen this before, and we've seen it (insert any spy, espionage,
and conspiracy theory films ever done before here) executed far better than
this. Even the sluggish action and car chases evoke a strong sense of déjà vu.
The
film's actors have fun with their performance and it plays out to the film's
advantage. Burns and Rhames are old colleagues; so they pick at each other like
old friends do. West tags along for the ride and does a good enough job playing
a wimpy character that can't take charge of the situation. However, as a
leading man, he's a cut below average.
Amped thrillers like Echelon
Conspiracy come with their fair share of physical and narrative preposterousness,
and that has always been part of the fun. It's the film's lack of imagination
that is more offensive. Maybe this b-film doesn't need to live up to such
expectations; after all, it did a good job of killing off two hours while
keeping us mildly entertained.