El Limby 8 Giga: Egypt's Favourite Crass Doofus is Back
Mai Ezz El Din

Mohamed Saad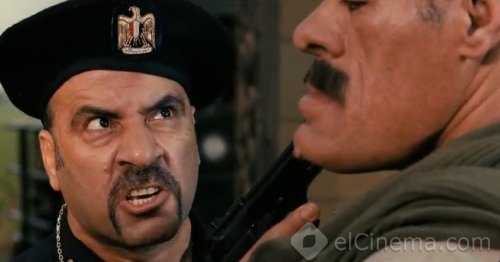 It's been a decade since we first got introduced to El
Limby as a side character in Sherif Arafa's cult classic El Nazer.Back then he was a caricature of a working-class hick with
questionable lifestyle choices. True, he had a soft side and potential, but his
mannerisms were never celebrated.
By the time El Limby got his own film, all that was
left from his earlier portrait was his vocal-ticks and idiosyncrasies. He was immortalised
in a way that signalled an alarming decline of our social standards. Critics
questioned the character's inability to form coherent sentence without having a
full-blown panic attack. At their core, El Limby films are nothing more than a
bid for the lowest common denominator of slapstick humour.
After a string of formulaic
films, Mohamed Saad returns to the character that launched
his career. A gifted physical comedian and a talented actor, Saad is not the
best story originator. His idea for the third El Limby instalment borrows
elements from Si-Fi, psychological thrillers and courthouse dramas. It's a messy
and random adaptation of films, from The
Matrix, Memento to Eternal Sunshine of
the Spotless Mind. If all this sounds baffling, rest assured; none of it
works.
The emotional conflict in the film arises from the
fact that El Limby and his wife (Ezz El Din) can't have a baby. While they are
both very fertile, the couple can't conceive a baby together, according to a
doctor. It doesn't occur to the couple to seek a second opinion or consider in
vitro. This minor plot hole is one of many in the script, where there is too much
blunt narrative laziness for
comfort.
Is El Limby
funny? Yes, but it also can get obnoxious at times. Near the end, the film
resorts to the old apologetic tactics that suck all the laughter out of a room.
Not to worry; there are several funny catchphrases and slapstick moments, and it
must be said that El Limby, has the
funniest use of the Windows start-up music so far. The film also features a
weird doctor/mad-scientist character that deserves a serial killer film: if
there was a mood-swinging Olympics; he'd come first, second and third.
In terms of comparison to the first two El Limby films, this would rank third.
It's slightly less funny than the other two, and it lacks the labour-of-love
quality that made the earlier films charming. What it has in abundance is the
crass, cheap and loud humour that made a misguided cultural figure out of El
Limby.