From Paris With Love: Travolta Heads to the Continent
John Travolta, Jonathan Rhys Meyers, Kasia Smutniak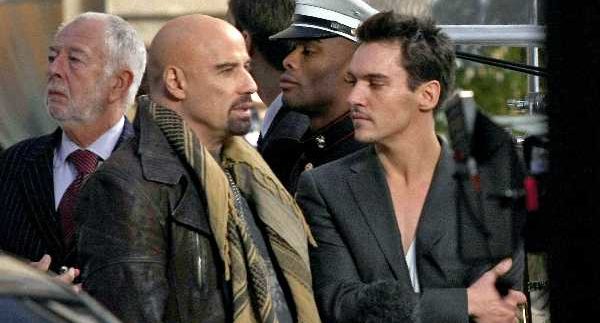 From Paris With Love is clearly meant to be a guy flick. It's definitely not the type of film one would remember in detail the next day, nor will it induce any 'round the water cooler' conversation in the office, but it is enjoyable enough to earn a sense of success. Most critics were simply not convinced, but sometimes you just have to say, "who cares what they think?" It's unlikely that the girls will take kindly to this man's world movie, even though it appears to be billed for them.

Can you really pass up a chance to see Travolta? Maybe, but most probably not. He's a solid actor who has made a career playing this type of character and revels in the habitual tough guy role.

As the personal aide to the U.S. Ambassador in France, James Reese (Jonathan Rhys Meyers) leads an enviable life in Paris complete with luxury living and a beautiful copine. His real passion however is his side job as a low-level operative for the CIA. All James wants is to become a bona fide agent and see some real action. So when he's offered his first senior-level assignment, he can't believe his good luck—until he meets his new partner, special agent Charlie Wax (John Travolta).

A trigger-happy, wisecracking, loose cannon who's been sent to Paris to stop a terrorist attack, Wax leads James on a white-knuckle shooting spree through the Parisian underworld that has James praying to get his desk job back. But when James discovers he's a target of the same crime ring they're trying to bust, he realises there's no turning back and that Wax himself might be his only hope of making it through the next forty-eight hours alive.

In the end, this isn't the greatest of action films but it doesn't really strive to be the next big film of the year. It is what it is and if we take it with a grain of salt, then it's certainly worth the cinema visit.