Godzilla: Bigger and Louder than Ever
Aaron Taylor-Johnson

Bryan Cranston

...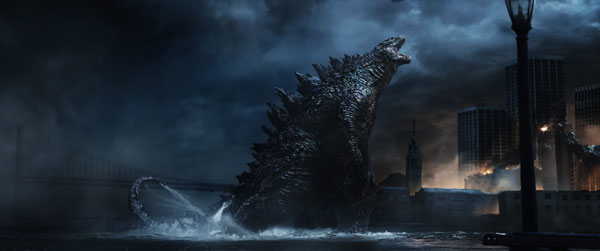 First seen in Ishiro Honda's 1954 Japanese film hit, Gojira, this larger-than-life terrestrial creature has been roaming around the big-screen for over a decade now; appearing in a total of twenty-nine films, as well as numerous television and comic book series. Now, Godzilla – in its thirtieth on-screen appearance – returns, and it's bigger and louder than ever.
The year is 1999 and Joe Brody (Cranston) is living in Japan with wife, Sandra (Binoche) and young son, Ford (Adams) whilst working as the chief physicist at a Japanese nuclear power plant. After discovering a suspicious seismic activity pattern, Joe becomes increasingly worried about the result of his findings, believing it could bring devastating effects to the plant and surrounding area. However, before he gets a chance to voice his concerns, a destructive tremor strikes causing a catastrophic meltdown.
Fast forward to fifteen years later and Joe – now a clearly obsessed conspiracy theorist – is still searching for the missing answers in the hope of one day discovering the truth behind the plant's meltdown. However, his mission is soon interrupted when he gets arrested for entering the now long-quarantined city; an undertaking that soon brings Ford (Taylor-Johnson) – now a lieutenant in the U.S Navy – to his rescue.
Meanwhile, research scientists, Dr. Ishiro (Watanabe) and Dr. Vivian (Hawkins) are tracking the progress of a Massive Unidentified Terrestrial Organism, a.k.a M.U.T.O; a deadly monster that feeds on radiation, while Ford – someone who has always been dubious about his father's sanity – soon begins to believe that his father may have been right all along and that there may have been a way to put a stop to the deadly consequences that will soon follow.
Suspense and the fear of the unknown play a significant role in the success of Gareth Edward's latest directorial effort, which luckily delivers a story that takes its time to build and develop. Written by Max Borenstein and Dave Callaham, Godzilla – originally created as a metaphor for nuclear weapons – has a massive on-screen presence but even though it is a monster movie, it also manages to find time to deliver a cautionary tale of human greediness and witlessness as well as a group of characters that one can easily connect to and root for.
Cranston, fresh off from the set of the hit-TV series Breaking Bad, delivers an incredibly poignant performance as the obsessive and the equally charismatic scientist looking for the truth while Taylor-Johnson, although pretty average for these types of productions, is equally likable.
Thrilling, gripping and surprisingly touching, it's safe to say that the fans will find plenty to enjoy in this latest big-screen monster vs. monster battleground offering, and although, the King of the Monsters definitely takes his time before making his first appearance, he most definitely makes it well worth the wait.