Green Zone: Damon's Back with Entertaining Action
Aymen Hamdouchi

Faycal Attougui

...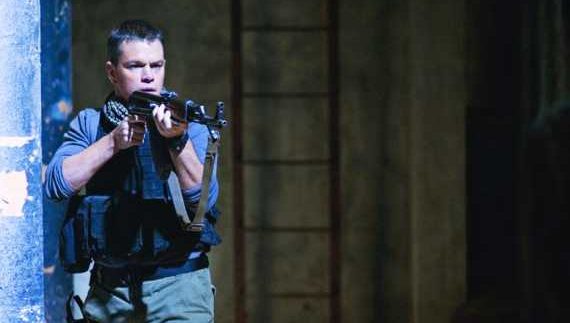 In the past few years, Hollywood has looked to the Iraqi war for
inspiration in its action genre; with films such as The Hurt Locker combining action sequences with criticism of
the war. Green Zone is yet another action-packed wartime thriller.
Green Zone takes
place during the American-led occupation of Baghdad in 2003, where Chief
Warrant Officer Roy Miller (Damon) and his team of inspectors search for those
elusive weapons of mass destruction believed to be stockpiled somewhere in the
Iraqi desert. The men search and search for the WMDs, but instead come upon a
massive cover-up that threatens the very core of their mission. Miller must then go undercover for the answers that he
desperately wants. No one can be trusted and every decision can detonate
unforeseen consequences.
Damon succeeds in showing he is an action star beyond
the Jason Bourne mould, delivering a fun and charming performance in this
action-packed thrill ride that will keep audiences glued to their seats. Green Zone is the first Iraq-based war
film to succeed at the US box office, following the critical acclaim but poor
box office earnings of The Hurt Locker and
other films.
Overall, the film meanders a bit; failing slightly in
its efforts to portray a mystery in a war that most people already know too
much about. Americans are likely to find the film appealing; as it throws in
just enough politics to educate without boring its viewers.
At the end of the day, Green Zone is not a typical Middle Eastern-themed film that
attempts to deepen the viewer's understanding of the region. Instead, it is a
fun action film that is certain to be enjoyed by men and women for obvious
reasons– it has the handsome Damon and lots of explosions. Kinnear also gives a
nice performance that helps keep the movie from falling short of its aim: to
entertain.